Create a 360° Single Customer View
Connect all your data in one Customer Data Platform
What is a Customer Data Platform?
A Customer Data Platform is a single operational platform that empowers you to unify all your customer touchpoints from every data source and make the data available to all activation channels in your tech stack.
Break down data silos to bring together customer data that is spread among all your different systems to achieve a Single Customer View of each of your individual customers.
With a complete 360° view of all your customers, you are able to target the right customers, at the right time with the right message.
Build a seamless customer experience
Raptor CDP Model
Customer Lifetime Value
Discover the true value of your customers
Personalized Omnichannel
Connect every customer touchpoint from online to offline
Hyper-Personalization
Leverage AI, Prediction and real-time data to deliver personalized marketing
Dynamic & real-time segmentation
Forget about static segmentation and experience segments that are always up-to-date
Technology agnostic
Integrate all your data sources seamlessly in your tech stack
Single Customer View
Achieve a full overview of every individual customer's touchpoints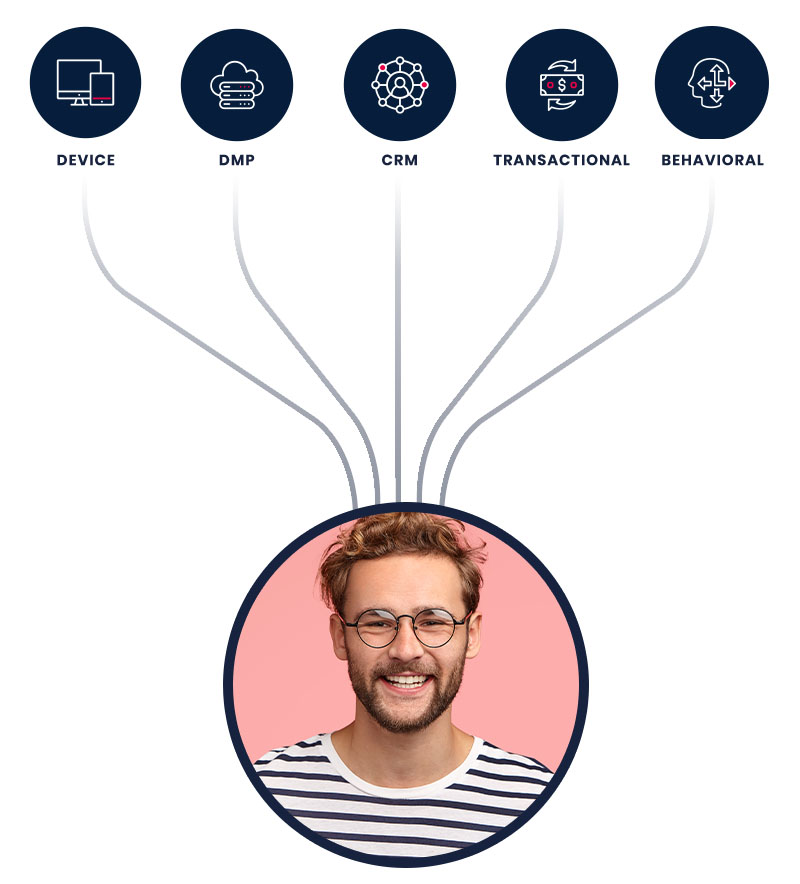 Ingest customer data from both online and offline data sources. This ingestion includes first-, second- and third-party data from multiple sources such as transactional systems, website tracking and behavior, POS, CRM and many others.
Learn more: What is Customer data?
Once the integration of your ingestion sources has been completed, the ingestion of customer data happens with real-time automation and will be added to each individual customer's profile.
Data Unification
When you have ingested your customer data from all your data sources you are able to unify and match anonymous customer profiles based on our Profile Unification.
This is a technology that combines and matches ID's such as e-mail addresses, cookie ID's, device ID's, user ID's and token ID's.
This process contributes to building a Single Customer View of each of your individual customers, allowing you to have a full overview of your customers.
What might start out as an anonymous profile will at some point be matched to another profile by comparing ID's across devices and channels. This ensures a Single Customer View of each of your customers.
Learn 4 Key benefits of a Customer Data Platform
Over time, each customer profile will be continuously enriched by every activity and behaviour allowing a more personalized profile to navigate your marketing efforts.
By connecting and matching profiles, you are able to get a clear overview of your customer journey and it enables you to attribute channels correctly.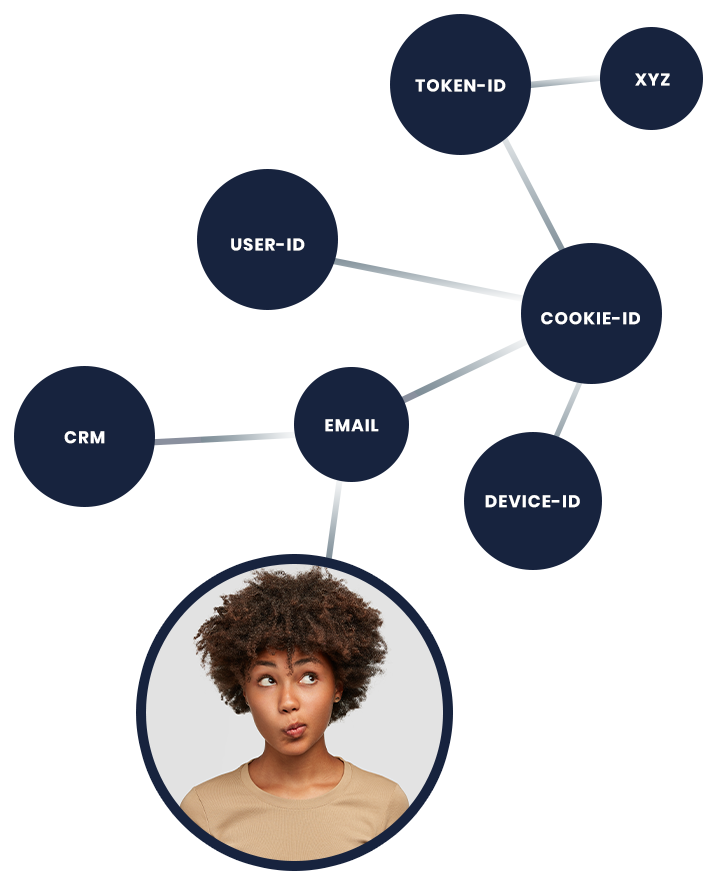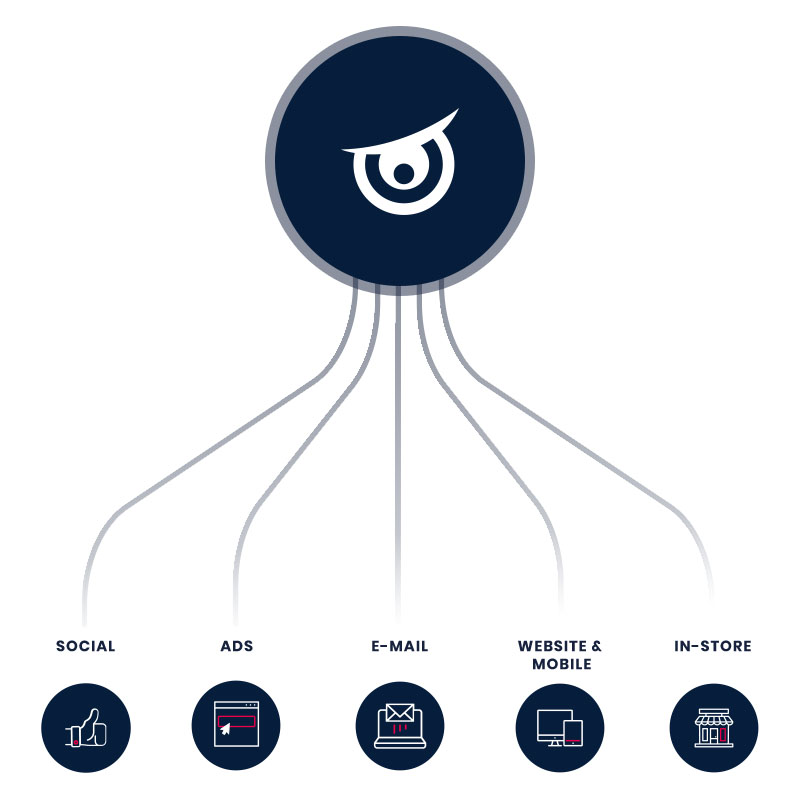 To unlock the true potential of your collected customer data you need to activate the data in your desired activation channels.
Collecting data is only half the job. The true value and competitive advantage of customer data is achieved by activating the unified customer data correctly. A proper activation allows you to go from a standard level of insights that everybody can achieve to a operational level that only few companies are able to.
The audience builder incorporates and defines strategic business logics in advanced audiences.
Forget about static segments that you manually have to update. Every audience you have created is dynamic, which means that it updates in real-time and adds customers that meet the requirements of the specific audiences.
Based on the unified data across all your customer touchpoints you are able to build audiences and activate the audiences in activation channels such as Facebook, Google Ads, E-mail, Website and many others.
Deliver personalized customer journeys by targeting the right users with the right messages at the right time.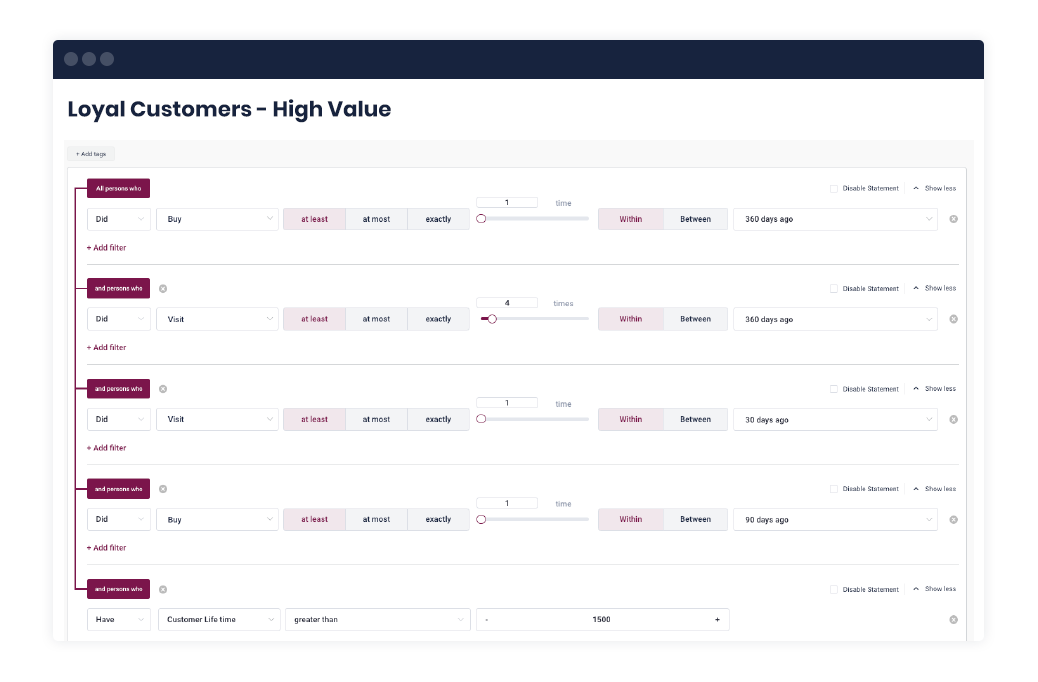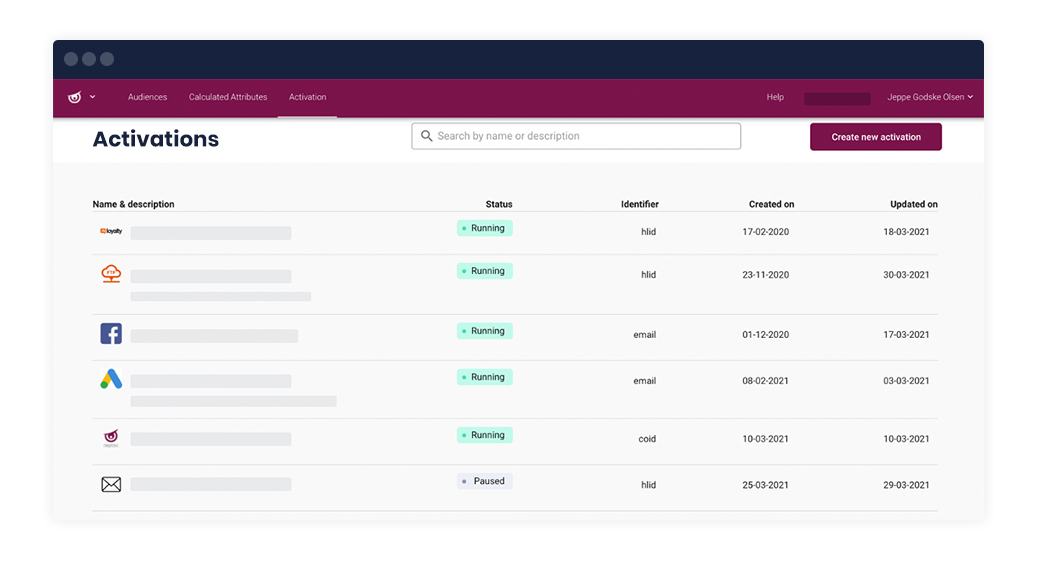 With a Single Customer View, you have a full overview of every interaction a customer has ever made with your company, such as their transactions both online and offline, website and browsing behavior, audience history, and much more.
Discovering the 'one truth' about the customer is key in omnichannel personalization. Real-time audiences based on rule orchestration is fundamental to a succesful personalization. This will secure that customers are not targeted with the wrong messages at times where they are not ready to make a purchase.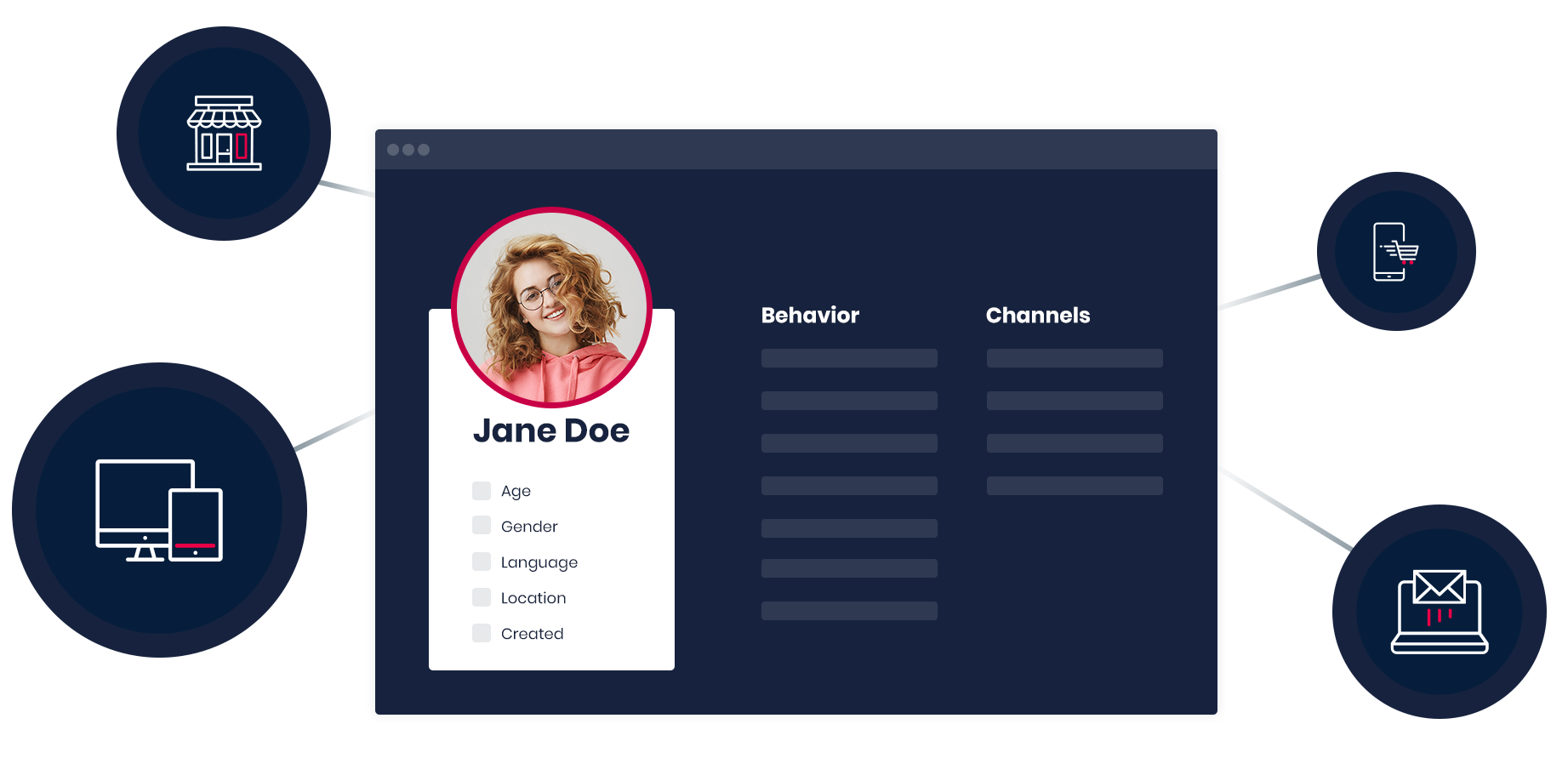 Designed to work with your tech stack
We're ready to develop any integration you need
Every solution is handcrafted to make you succeed
Use all your data
Customer Data Platform Use Cases
Customers with a high CLV
Loyal customers who often buy place large orders or both.
Valuable Churners
Consumers who have previously had a high purchase frequency, but who have fallen sharply.
Brand Preferences
Identify customers with preferences towards a specific brand
Non-Omnichannel Customers
Identify customers that only buy through one channel
One Timers
Bargain hunters or gift shoppers that often shop on Black Friday or other discount periods.
We make the process to comply with GDPR, and secure your customers data and other privacy laws, more simple. A Customer Data Platform gives you unified user profiles for each of your customers, so you have a complete overview of the data you possess on each individual. This will make it much easier to comply with requests for changes to a customer's privacy and permission status.
Encrypted data hosted on a secure cloud solution from Microsoft Azure internal and external security evaluations
Role-based permissions
Two-factor authentication
Customer Data Platform: Your Complete Guide
Want to learn more about our Customer Data Platform and its value to your business? Fill out the form to download the guide that answers all your questions.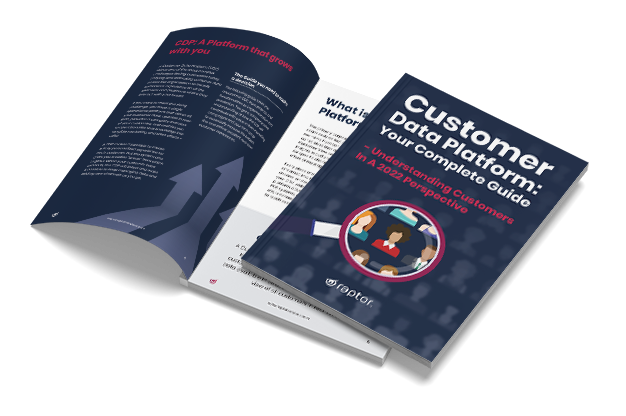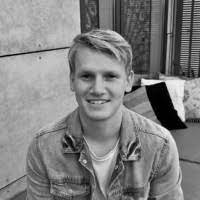 Nicolaj Christensen, Head of Marketing & Ecommerce at ApoPro.dk
"As an online pharmacy we handle very complex customer journeys and make sure individual customer needs are met. By combining Raptor's Customer Data Platform and Recommendation engine, we've build the foundation for a more personal and relevant pharmacy-experience"
Customer Data Platform
Related Content


Customer Data Platform
Do you want to know more?
Omnichannel Personalization
Personalized Experiences across all your channels