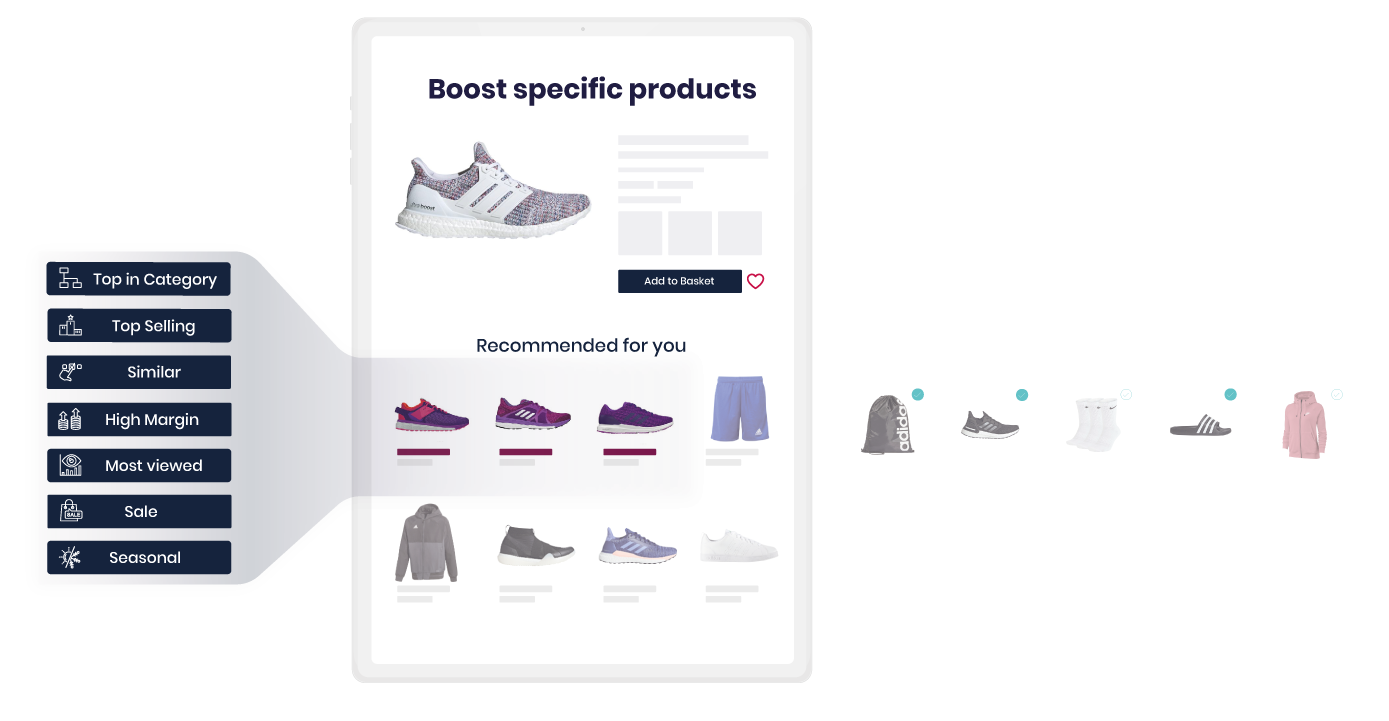 What is Commerce Merchandising?
In Raptor's Merchandising  you are able to use your recommendation modules as advertising space on the channels you choose. Create extra exposure around specific products and place them right in the customer's line of sight, combining customer relevance and product promotion.
Gain the advantages of Retail Media

Retail Media is a strong tool and a gamechanger for retailers because it can be a new source of revenue beyond your regular sales. It involves placing ads on your website that target shoppers while they are browsing and purchasing products.  If you want to gain the benefits of Retail Media on your website, our Merchandising Center is the perfect solution.
Learn more on what Retail Media is and the main advantages here 
Take control over which products should be introduced in specific modules on every landing page, increasing the product exposure just where you want it. This way, you create a personalized online shopping experience while influencing which products should be prioritized.
You have to use at least one of Raptor's solutions (Website Personalization, E-mail & Triggers Advertising Personalization or Search Personalization) before you can activate the Merchandising.
The Merchandising automatically tracks campaign performance to let you know what is most successful with your customers.
Vendor funded campaigns
Sell advertising spots to vendors. With the boosting level feature you are able to sell the spots in the front of your recommendation modules to the highest bidding vendor.
Brand specific campaigns
Prioritize specific brands that you want to improve attention to on your website.
Clear products from stock
Having a surplus in stock means that your invested capital hasn't given you the return you wanted, and this might affect your future investments.
Prioritize high-margin products
Products such as white label products with high margins usually do not generate as much traffic and clicks as your high-value brands, which means they do not get as much exposure in your recommendation modules.
Create awareness about new campaigns
Get the new products at the top of the recommendation modules from the moment they launch on your website.
Merchandising Step-by-Step
Name your campaign and specify campaign time period. Choose a specific period or start the campaign immediately. Both options can be with or without an end date.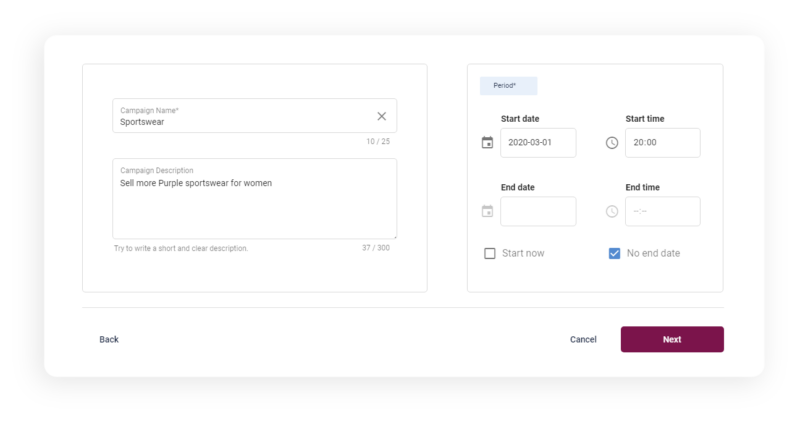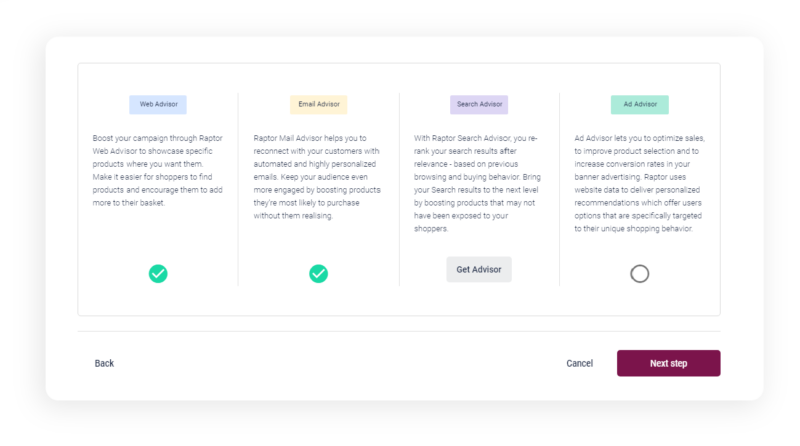 Choose the channels you want to use to target your customers. You can choose multiple channels, if you have the specific solution.
Step 3
Select recommendation module
Choose the modules you want to boost your products within. A module can only be active in one campaign at a time.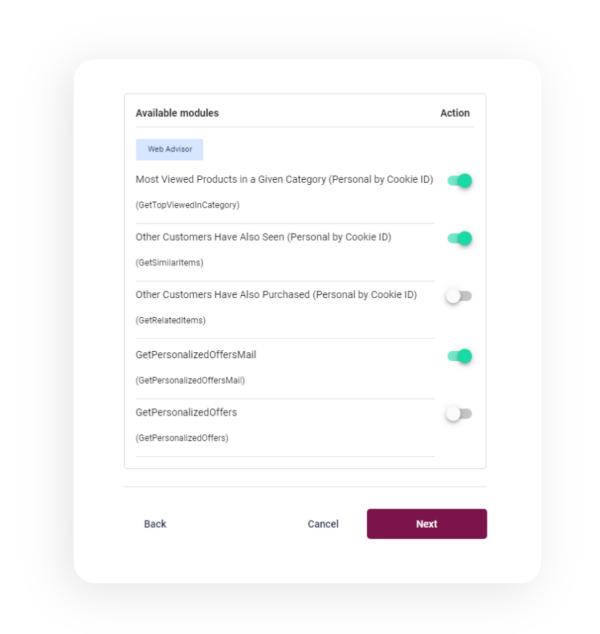 Find and add products you want to boost in your campaign.
Use the standard search options and select products by searching for a specific id, name or category. Or use the advanced search option and build fluid product selections by defining more detailed parameters.
Step 5
Choose boosting level
Choose the bosting level to define how much attention your products should receive in the chosen modules.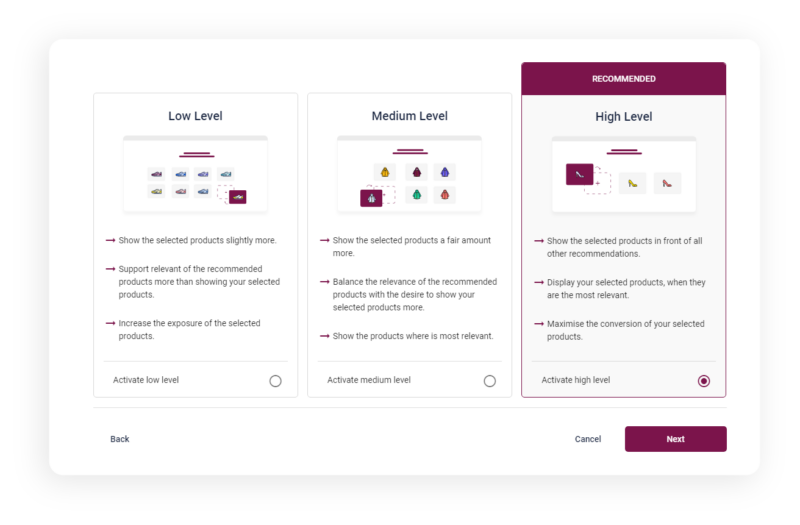 Low Level
Show the selected products slightly more.
Support relevant of the recommended products more than showing your selected products.
Medium Level
Show the selected products a fair amount more.
Balance the relevance of the recommended products with the desire to show your selected products more.
High Level
Show the selected products as the first products of the module.
Balance the relevance of the recommended products with the desire to show your selected products more.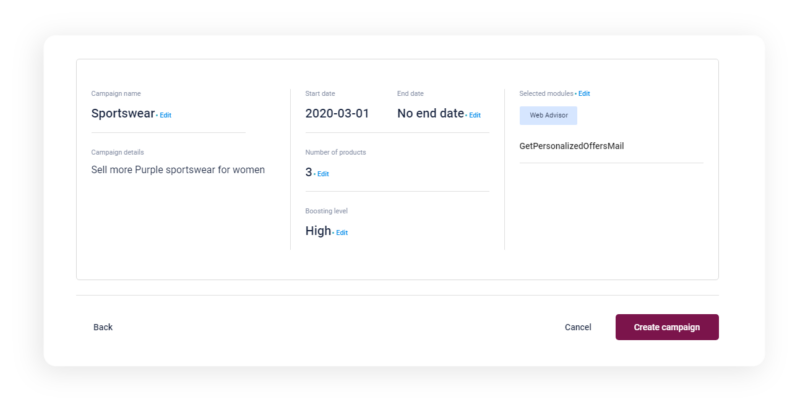 A complete overview of all your choices during the process of creating your merchandising campaign.
When a campaign has been completed, you can report the results and efficiency of the extra exposure the Merchandising has created for the chosen products.
This can be used for internal reasons, but also if you decide to negotiate deals with a supplier and they want to see how much exposure they have received for their investment.
Merchandising
Do you want to know more?


Omnichannel Personalization
Personalized Experiences across all your channels