NEYE – A 360 personalized customer experience

Neye
Industry: Fashion, Apparel & Sports
Solutions:
Raptor Conversionrate on website
Average order value (DKK)
NEYE is a market-leading reseller of bags, backpacks, suitcases, and accessories in Denmark.
NEYE sells a wide range of internationally and nationally recognized brands through their 42 stores, and since 2012 they have sold products through their e-commerce site, www.neye.dk.
NEYE is owned by the NEYE-Foundation which donates all profits to disease-fighting research, more specifically cancer research.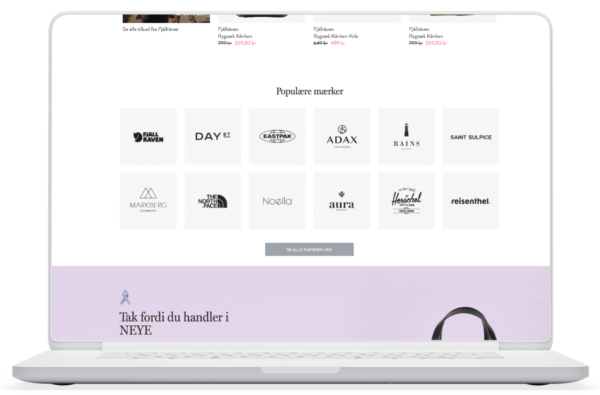 NEYE's situation – winter of 2019/2020
In the winter of 2019/2020 NEYE reevaluated its entire e-commerce setup and tech stack. The conclusion was that they could do everything smarter and more efficient than their current setup.
Their former setup involved a lot of manual processes in terms of product selection, which required a lot of internal time and effort. Everything from the products in their product recommendation modules, to the products featuring in their emails, was selected manually by an employee.
NEYE's solution revolved around a one-size-fits-all approach, meaning that all website visitors were met by the same recommended products when visiting neye.dk, all subscribers received the same product recommendations in their emails, and all NEYE's product ads on social media showed the same products as well.
During this period, NEYE used a personalization solution from another vendor than Raptor.
What NEYE really wanted was to work towards becoming omnichannel and hereby achieve a 360° personalized customer experience setup.
To reach this goal NEYE had some specific pain points that they wanted to solve.
Automation of manual tasks
NEYE, used too much time and manually resources choosing what products to showcase in their campaigns both on-site, in emails, and product ads on Facebook, Google Shopping, etc.
One system
NEYE also wanted one system to handle all their personalization outputs – both on their website and through email. One system, to unify their customers' behavior and interactions as well as the opportunity to communicate personalized messages to each customer across all their channels.
Recognize more
On NEYE's website, visitors can create an account when they purchase a product. When a user creates an account, it's easier to track their purchase, if they decide to log in to the same account every time, they complete a purchase going forward. There are unfortunately only a few % of their customers that decide to do this. NEYE, therefore, also wanted to track users and connect their purchases even if they don't choose to log into their individual accounts.
Relevance
Overall NEYE wanted to increase the relevance in their communication across all customer touchpoints. This had to improve customer satisfaction and loyalty and hereby also increase sales.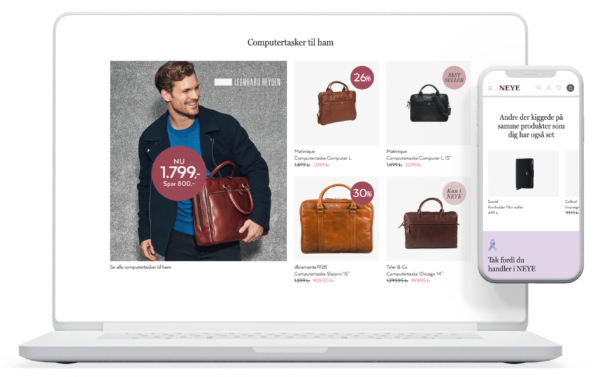 Raptor started the process of planning a roadmap together with NEYE's marketing agency Alpha Solutions.
As a first step of the Raptor implementation, a tracking script was integrated to track users' behavioral patterns on NEYE's website. This was an important first step because while the implementation process is going on, the tracking script still collects relevant data that can be used when needed.
Recommendations are no better than the data you collect, so the more data you have – the better you are going to be at predicting your visitor's needs.
To accommodate NEYE's workload capacity Raptor was implemented in stages. On-site personalization was the first project. In this process a POS data synchronization was done to utilize all the data that NEYE has from their physical stores into their online recommendations. Subsequently, email personalization, behavioral triggers, and personalization in their Paid Media were implemented.
What we look at in the onboarding process is: What vertical does this client belong to? And what is best practice regarding this segment – that works well for other companies in this vertical? And let that be the reason behind the recommendations for NEYE.
Raptor is now the brain behind NEYE's personalization, making sure that whenever a user interacts with the brand they are presented to the most relevant products, no matter the customer touchpoint.
NEYE collects data from all their digital channels, which then gets sent to Raptor. As the model below illustrates the channels are used to activate data, but they are also used to gather data about users and their behavior and preferences. That action can be used to control and continue your personalized communication towards your target group no matter the channel.
When it comes to determining the products that should be presented in recommendations, a lot of factors are considered. As mentioned NEYE has a lot of useful data from their physical stores, which are used in their online recommendations. Likewise, the stock status and the product age (when was the product added to the website) are taken into consideration, whenever products are chosen for NEYE's website recommendations.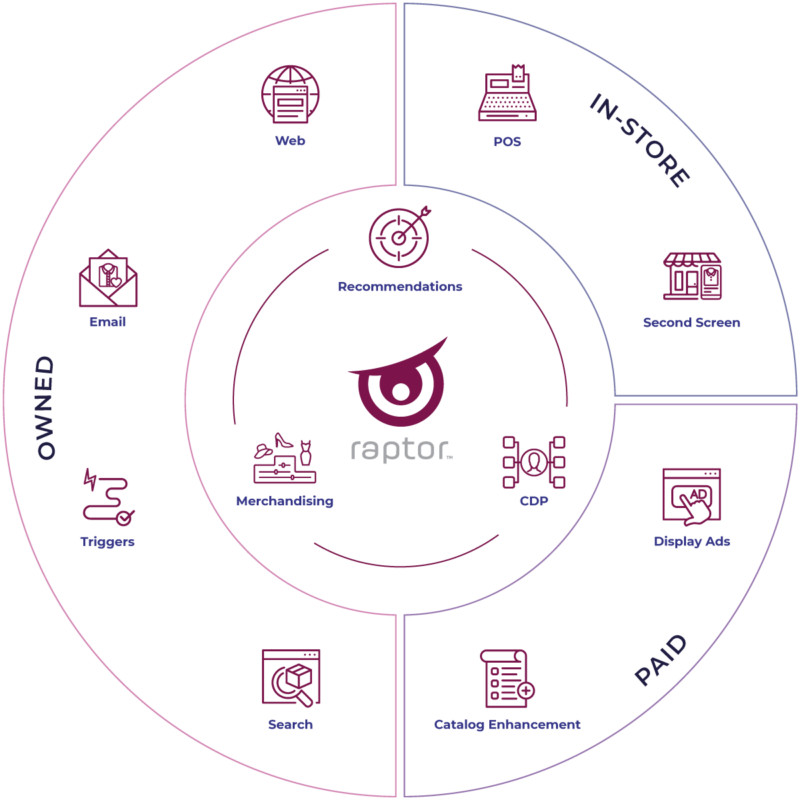 We trust Raptor's recommendations 99% of the time, only on very few occasions, we have specific requirements to which products have to be shown.
Website personalization
Product pages
NEYE utilizes personalization on their product pages by having two product modules. The one on the left shows the most popular products with the brand of the given product. The module on the right shows a product, which other users who have visited the same product, have shown interest in.
We think that our recommendations with Raptor make more sense compared to our previous personalization solution. The algorithms are better, and the recommendations have become a lot better after our POS integration.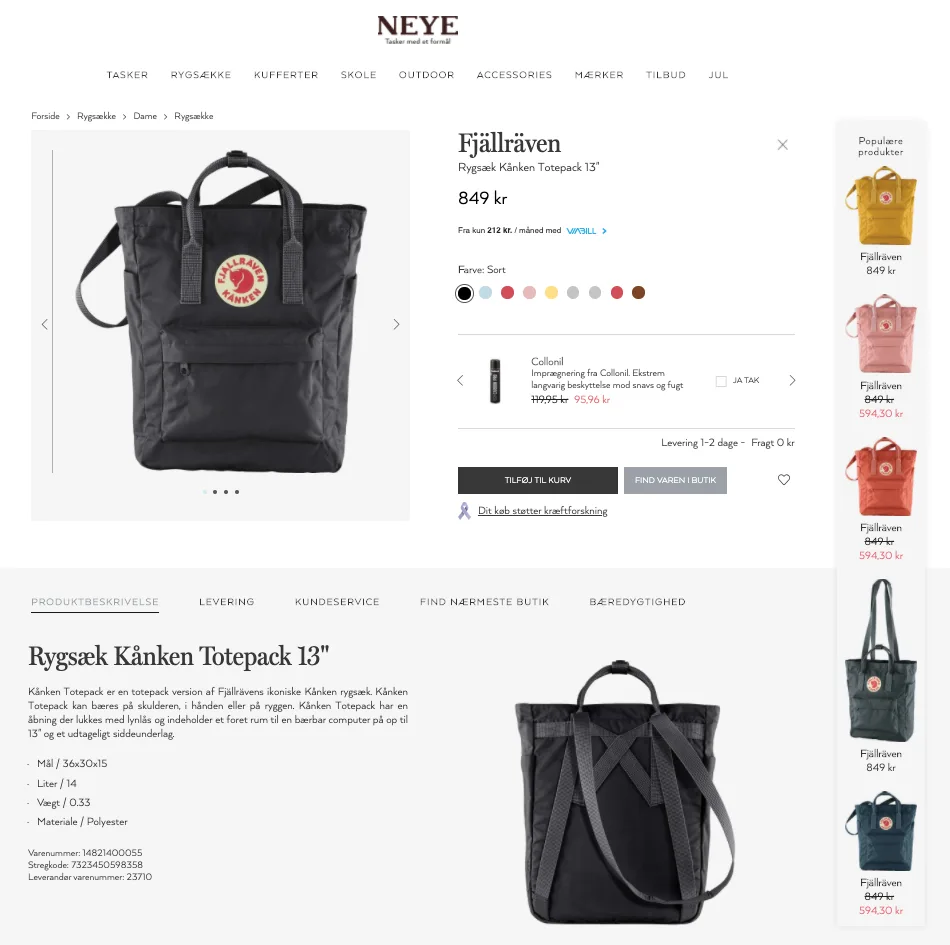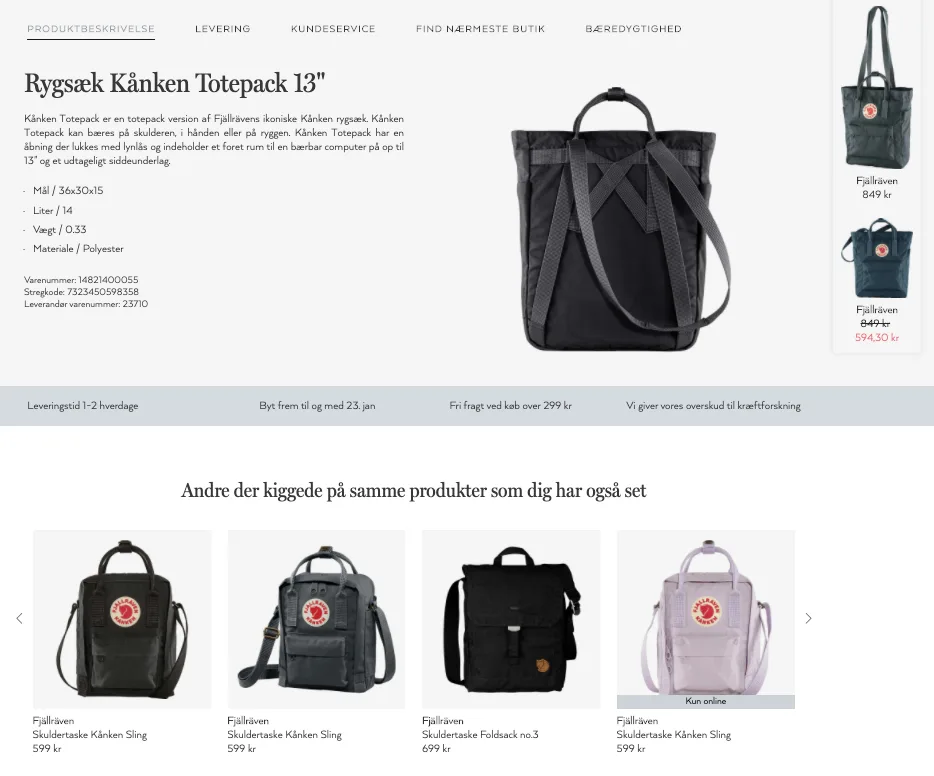 Website personalization
Category pages
On the picture to the left, you see a "men's bag pack" category page from before NEYE integrated Raptor. Whenever a user entered the category page, they saw the latest added products. Now, as seen on the picture on the right, whenever a user enters the category page, the products presented are the most popular based on the individual users' previous behavioral patterns.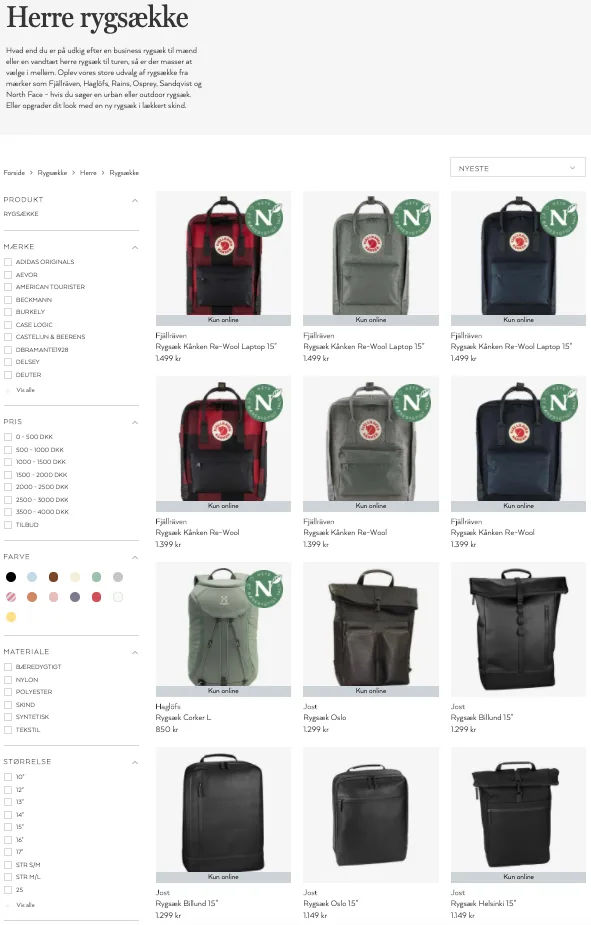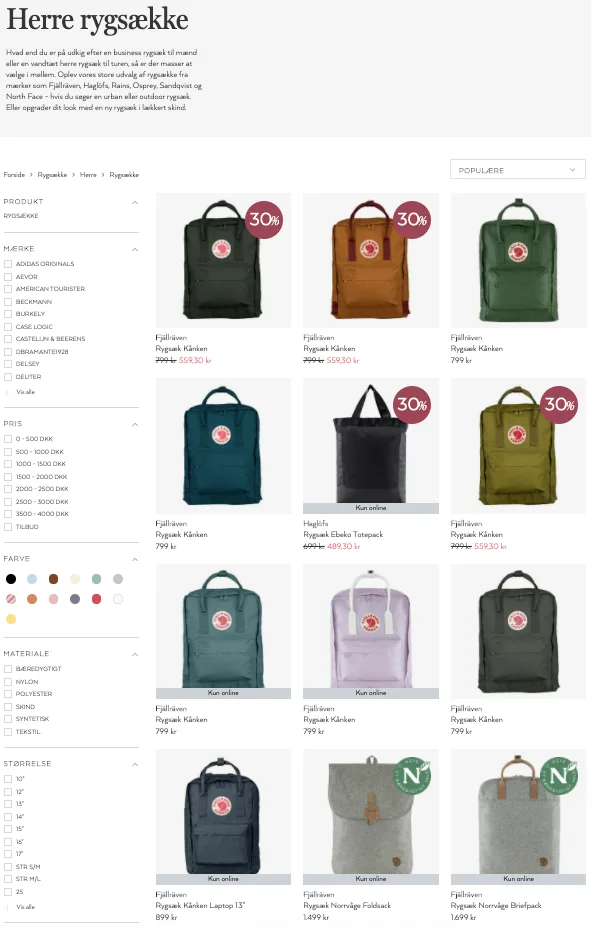 If a user decides to use NEYE's website filters, the products shown will still be tailored to the individual. If the user only wants to see yellow bag packs, then the most relevant yellow bag packs are presented based on their previous behavioral patterns.
Email personalization
Newsletters
NEYE has 8 different strategies/algorithms to choose from when selecting products for their email campaigns. NEYE no longer has to manually choose which products they want to feature in their newsletters, they can now select one of the strategies/algorithms such as popular products, personalized recommendations, popular in the category, etc. and Raptor will choose the products that are most relevant for each individual subscriber.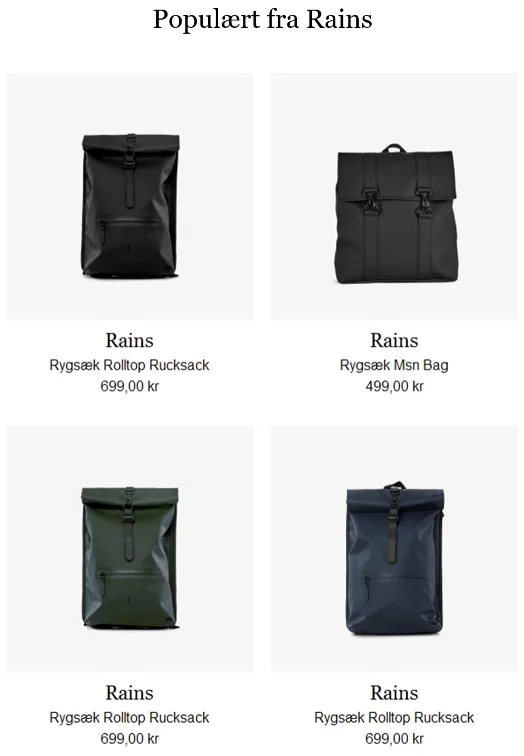 Everything is updated in real-time, which means that the products shown in NEYE's emails are chosen the moment a user opens it and not the moment the email is sent. So, if an email is sent Monday, but a subscriber opens the email Thursday and some of the presented products now are out of stock, Raptor will find new relevant products to show.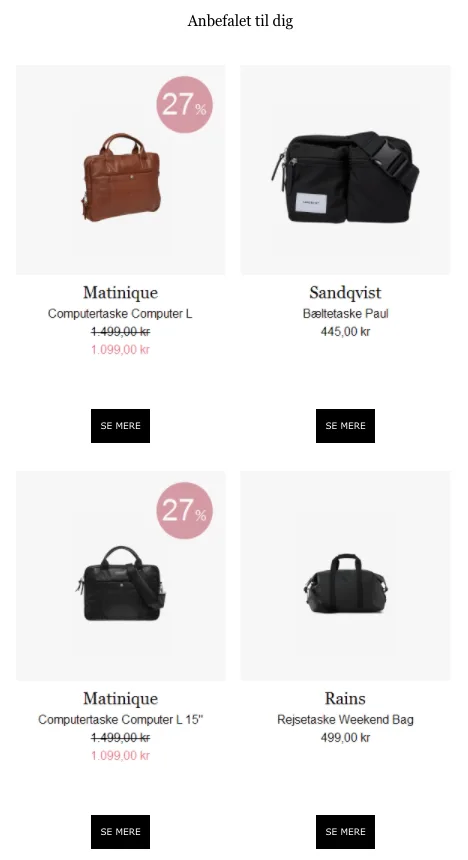 Email triggers
Abandoned Basket
A new automation to NEYE's email setup is the abandoned basket. Every time a user abandons a basket and leaves NEYE's website without completing a purchase, the user will receive an email that reminds them of the product they have abandoned. NEYE are now able to recover many of their lost baskets, automatically, without any manual tasks.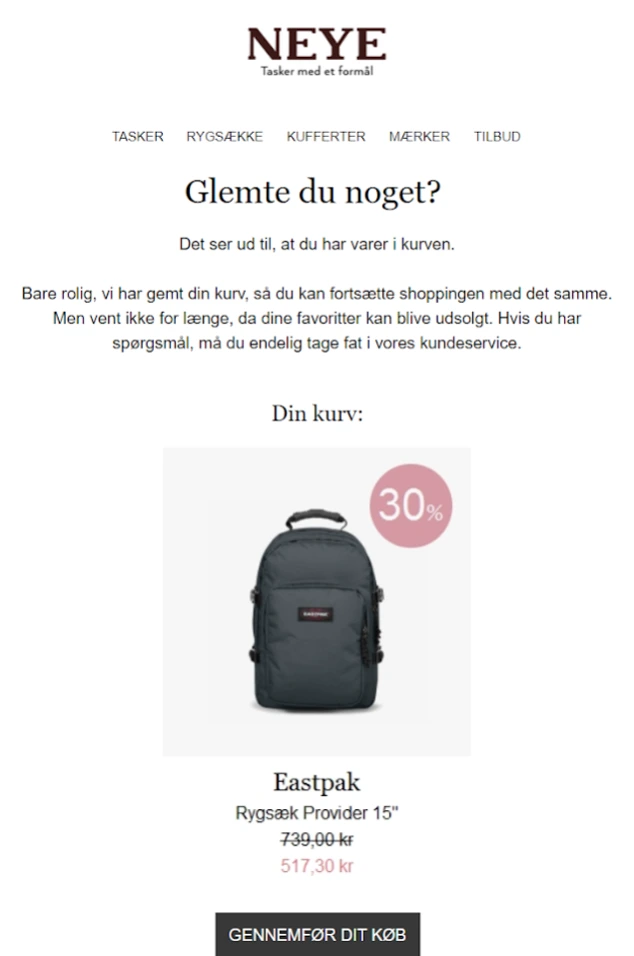 Email triggers
Price Drop
Another new email trigger to NEYE's email setup is the Price Drop trigger. When a subscriber has shown high interest in a product based on page visits, the subscriber will receive an email whenever the product experiences a price reduction.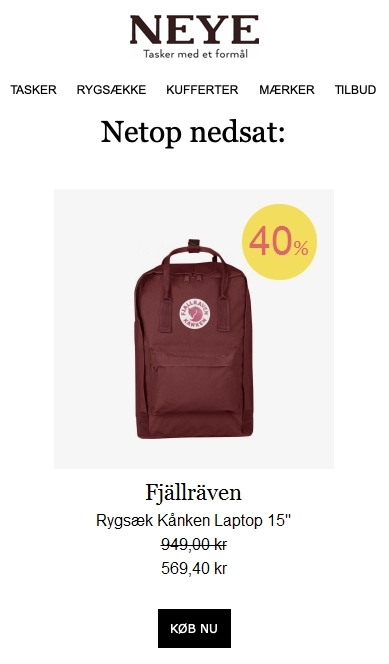 Email triggers
Category Interest
Category Interest
The Category Interest trigger is yet another email triggers to remind subscribers about a category they have shown interest towards.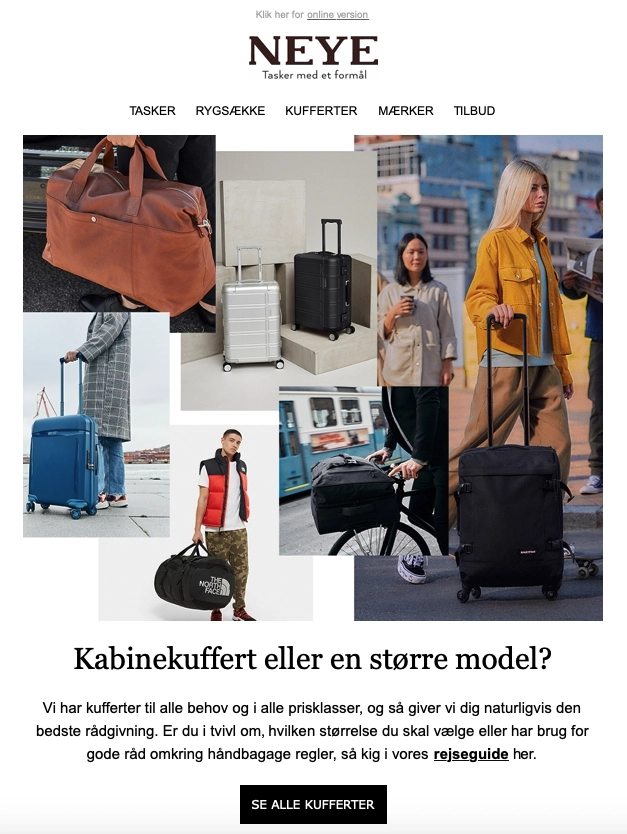 Personalized recommendations
In the Category Interest email, there are also personalized recommendations within the specific category.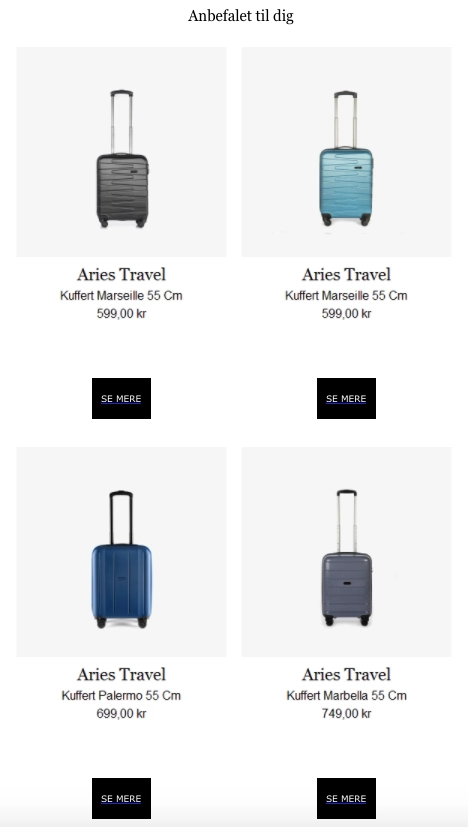 Every night a POS data synchronization happens between NEYE's physical stores and website. This synchronization is important to NEYE because they have much more purchasing data in their physical stores than online as well as the fact that it's not always the same products that are bought offline and online. So, the POS integration allows NEYE to have more data to use from in their recommendations. This especially allows them to see what buying patterns their customers have regarding what products are bought together.
NEYE also has stands with monitors in their physical stores that display their website, where customers in their physical stores can order products which are only sold online.
Previously, we had some problems internally because when we send out emails that would link to a category page, in some cases there would only be products that are available online, and our physical stores were very tired of this.
Now, it is the most popular products in the specific category that is shown on the category page, and we take stock status into the consideration when choosing the products to display. Since the implementation of Raptor, we have not received any complaints from the physical stores about how the category pages look.
NEYE use Raptor's Catalog Enhancement to improve their product feed for their SoMe ads and Google Shopping. A feed is sent to Raptor, which then chooses the most popular products to feature in their ads which is then sent to Google Shopping and Facebook, etc. NEYE's marketing agency, which controls their paid activities, also have different Raptor personalization strategies to choose from when it comes to controlling the products shown in their ads which can be used for their campaigns such as retargeting.
Raptor's solutions have been implemented and have been running for a while now on NEYE's channels. And it is easy to conclude that Raptor has had a positive effect on NEYE's performance.
All visitors that interact with Raptor's personalization outperform visitors that do not interact with personalization on NEYE's website.
Conversion Rate
The conversion rate shows the difference it makes to have recommendation modules on a website. The customers on NEYEs website who engage with personalization through recommendation modules are more likely to complete a purchase than a user who does not.
Average Order Value
It is easy to see if users who engage with personalized recommendations are affected by it when comparing Raptor users to Non-Raptor users. The average order value shows how good Raptor is at creating cross and up-selling, but doesn't consider conversions, and therefore it cannot replace the conversion rate. Customers that engage with Raptor personalization also have a higher average order value, than customers who have not interacted with personalization on NEYEs website.
Average Revenue per Visit
If the RPV is positive, you are earning money on your personalization investment. You can have a lower average order value, while still maintaining a positive RPV if the conversion rate is correspondingly high. Customers who interact with personalization from Raptor on NEYEs website has a higher revenue per visit than users who do not.
Read more: How does personalization affect SEO?
Average Visit Duration
Customers who experience a personalized website stay longer because the products and content are relevant to the individual, which is shown in the average visit duration. As mentioned in the section above, this is also an indication to Google that customers like what they see, so NEYE's pages should rank higher in their organic search results.
NEYE have taken their setup from a one-size-fits-all approach to a 360 personalized omnichannel setup, where all their digital channels know each users' preferences and interests. No matter which channels NEYE's customer interact with, they will experience relevant recommendations.
Focus on the customer experience, and the results will come
NEYE has increased its relevance and customer experiences
The increased relevance has led to better conversion and increased sales
NEYE now has more automation and less manual resources used
NEYE have the same organization and workload – They just work smarter
Do you want to know more about this case?
A Raptor expert can share more about the product and answer any questions you have