How the B2B supplier Carl Ras succeeded with personalization

Carl Ras
Industry: B2B
Partner: Impact
Solutions:

of online revenue is influenced by personalization
Customers interacting with recommended products are
more likely to convert than customers who do not interact
Carl Ras is a leading B2B supplier of tools and equipment for craftsmen and industrial use. The company has existed for 89 years and primarily serves the carpenter and woodworker segment. Carl Ras has 19 physical stores all over Denmark and more than 150.000 item numbers in their product catalog.
The journey towards a more personalized B2B business started years before 2019 with the manual work of connecting products across categories.
At this point, the personalization efforts at Carl Ras consisted of manually connecting tools and equipment in order to find suitable combinations for customers when they browsed on their website. This process was manually heavy and depended on expertise from craftsmen, who worked with thousands of product combinations across categories. However, while the recommendations would often be relevant, the results in terms of revenue didn't measure up to the time-consuming efforts.
"The results we achieved by manually connecting products were hardly worth the effort. Any algorithm – no matter how intelligent – depends on the data you feed it. If you want accurate recommendations, you need to put in the "hard work" of enriching your algorithm with data, and this took too much time on our part."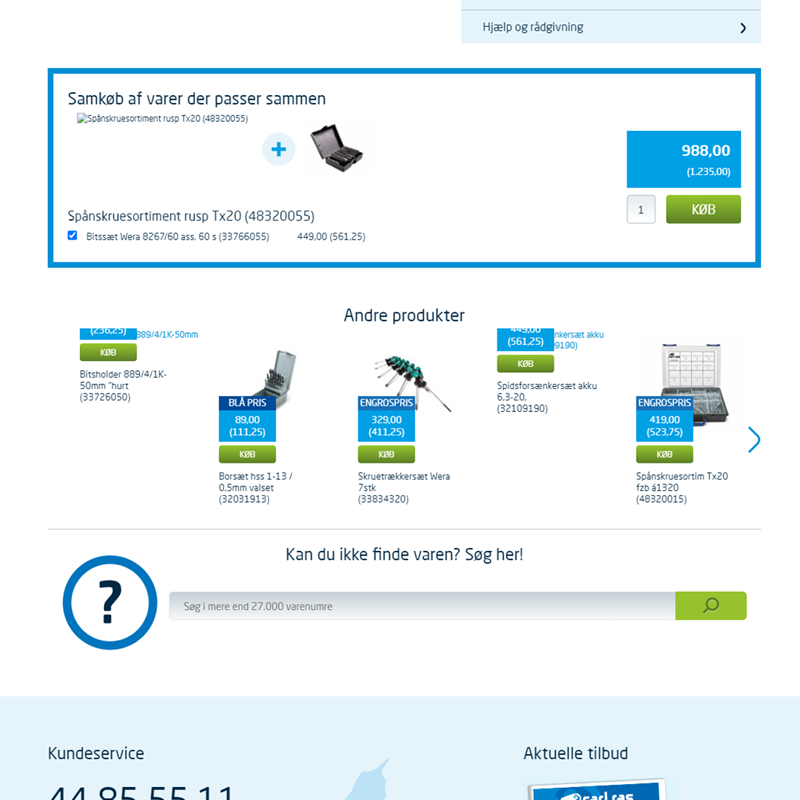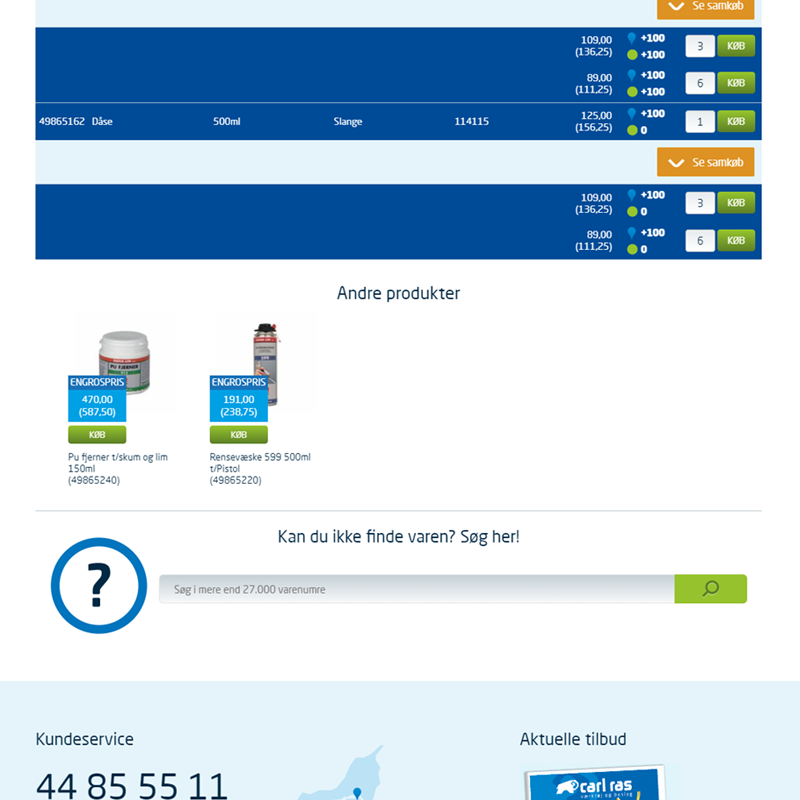 The recommendations were created manually by experts within Carl Ras. A time-consuming activity that required too many resources internally.
It wasn't until 2019, when the company needed a new website, that personalization, in a more automatic form across contact points, was brought to the table. This time Raptor's solutions, website, and mail personalization turned into central components in their online infrastructure.
The goal was to make the expert knowledge the customers knew from the stores available online, and this could be achieved by combining the all-important manual recommendations from the experts at Carl Ras and the data-based recommendations provided by Raptor's solutions.
"We wanted to replicate the "role of experts" that customers have come to know and appreciate in our physical stores and make that knowledge available online. We transfer expert recommendations from our PIM into Raptor, and with the combination of human knowledge and machine learning, we build the expert role digitally."
Carl Ras collects behavioral data from users' browsing history and items clicked on or added to their basket. Behavioral data, transactional data, and order lines from all their sales channels are all ingested into Raptor's engine in order to deliver accurate and relevant recommendations for Carl Ras' customers each time they visit.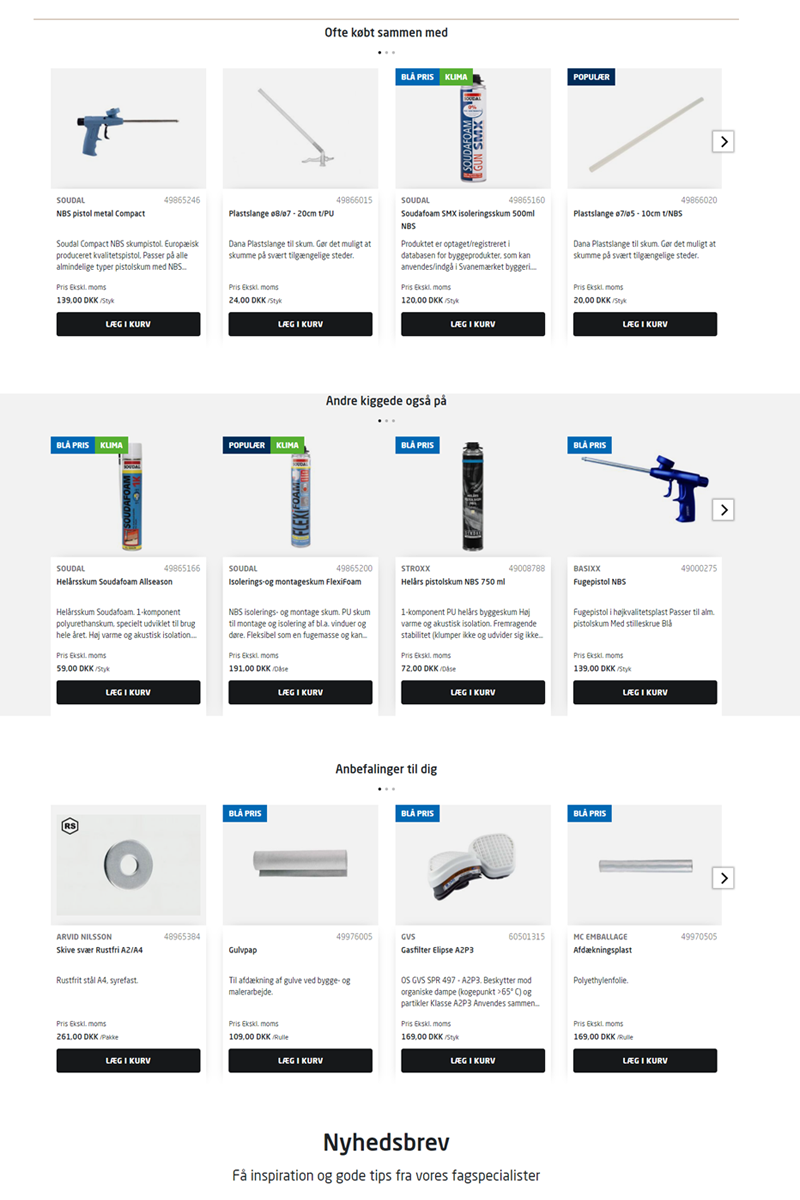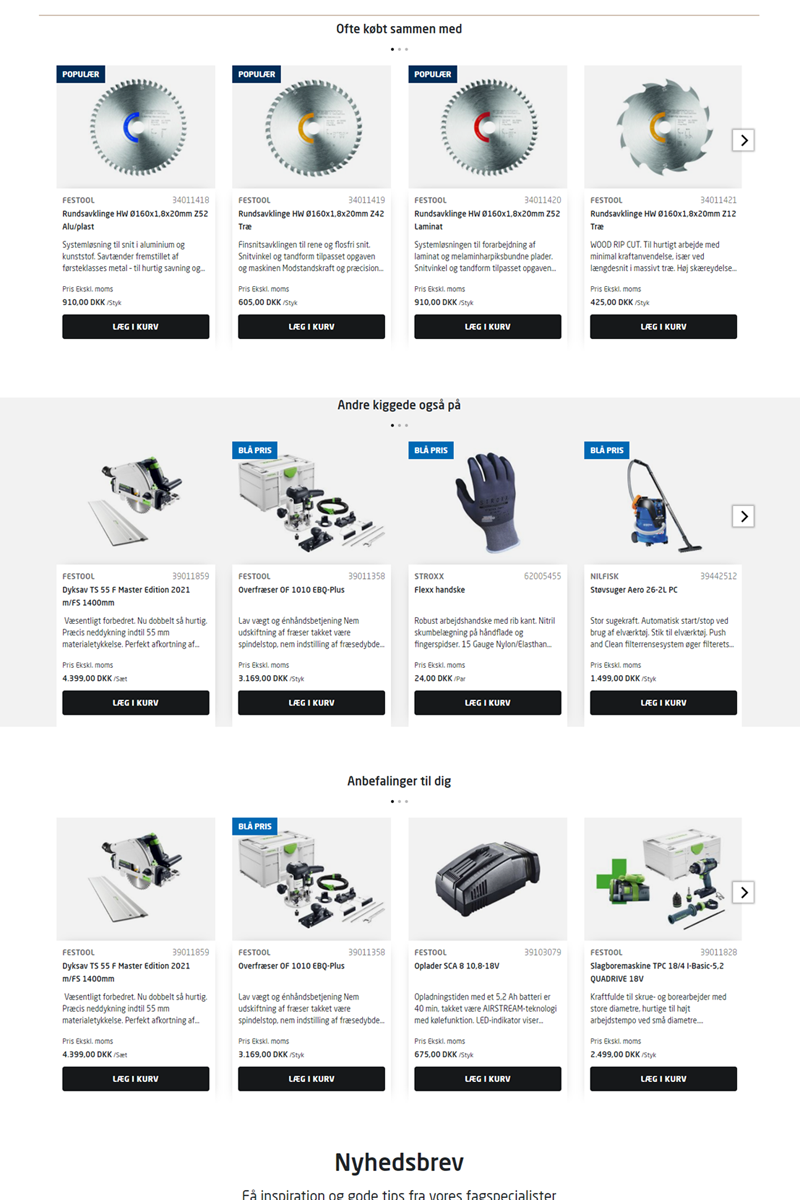 Their recommendations now contain several modules relying on aggregated data from all customer touchpoints. In the example above, the first module contains a combination of expert recommendations and recommendations deemed relevant for the customer by the algorithmic process. The module below lists products other people have looked at. The one right above the newsletter sign-up contains personal recommendations from users' previous purchases or behavior on their website or other platforms.
Carl Ras' recommendations have increased the experience amongst customers with accounts, who now experience more accurate recommendations of tools and equipment.
Account customers' recommendations derive from transactional data, online and offline behavioral data stitched together via e-mail addresses. In B2B businesses, persistent first-party data is central to ensure accurate recommendations and strengthens customer and brand loyalty.
"A powerful tool for measuring impact"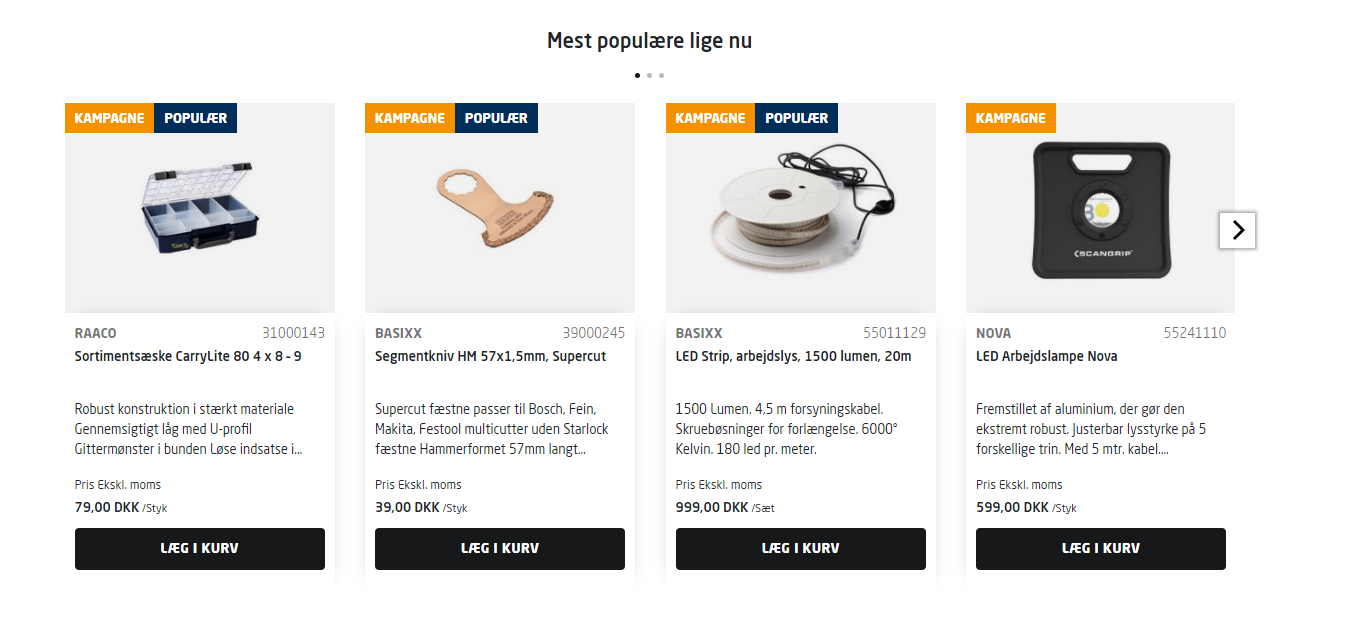 It is not only the relationship between Carl Ras and craftsmen around Denmark that has benefitted from more personalized recommendations – Carl Ras' suppliers also gain an advantage from being more in the line of sight to customers.
Merchandising has helped Carl Ras plan their supplier campaigns and use Raptor modules as advertisement or space management tools.
Above, you see how Carl Ras has listed their popular campaign products in their "most popular items right now" module. Carl Ras gains control over which products should appear in the module, creating more exposure to some brands as part of a supplier agreement.
What is Merchandising?
Raptor's Merchandising enables Carl Ras to use recommendation modules as advertising space. They gain more control over the recommendations along with creating extra exposure around specific products.
Merchandising allows you to take control over which products should be introduced in specific modules on every landing page, increasing the product exposure right where you want it.
"
Merchandising is our tool for "nudging" and controlling the recommendations Raptor's algorithm suggests. We decide which brands should be presented and, in this sense, used as an ad platform.
It's a powerful tool that allows us to measure impact and have dialogues with suppliers based on their campaigns' performance. The nudge we provide our customers through supplier brands is extremely successful. We can even prioritize high-margin products and decide how much we need to boost the products in each module."
What Carl Ras gained by personalizing their online space
Since Carl Ras began their personalization journey, the learnings have been many. For starters, the customer service team and staff in the physical stores now use Carl Ras' website as a sales tool for their customer interactions.
"Personalization on our website even makes it easier for our sales team in the physical stores to recommend products to customers, highlight the most popular and even suggest additional products that increase order value, all from the information provided online."
Personalization is, without a doubt, a valuable tool for many businesses. However, Carl Ras also strongly emphasizes an alignment of expectations and results.
"The more we nurture our customer data, and the more data we collect, the better recommendation we can provide our customers. Personalization allows us to maintain the position as experts in both the digital and physical world, but to become a trusted advisor, you need to understand the relations between data points. Why does the algorithm suggest rubber boots next to a toilet seat or screws next to that screwdriver? You need to connect the data dots if you want to succeed", Søren finishes.
The results Carl Ras has achieved with personalization since 2019 undoubtedly points to the decision being a succes. The results below are from the last year.
of Online Revenue has been influenced by personalization
increase in Average Order Value when interacting with personalization
increase in Conversion Rate when interacting with personalization
increase in average order of unique products when interacting with personalization
Around half of Carl Ras' digital revenue is influenced by recommendations. Either the customer has purchased a product from the recommendation modules, or looked at a product from the modules and ended up purchasing something else on the website. When the customer clicks on a recommended product the likelihood of converting increases by +82%.
According to Søren Elgum, personalization in itself does not necessarily lift order value. For that they use other tools. But it does mean more unique products end up in the basket. Customers engaging with recommended products have +60% more unique products in their basket and that does lift the order value.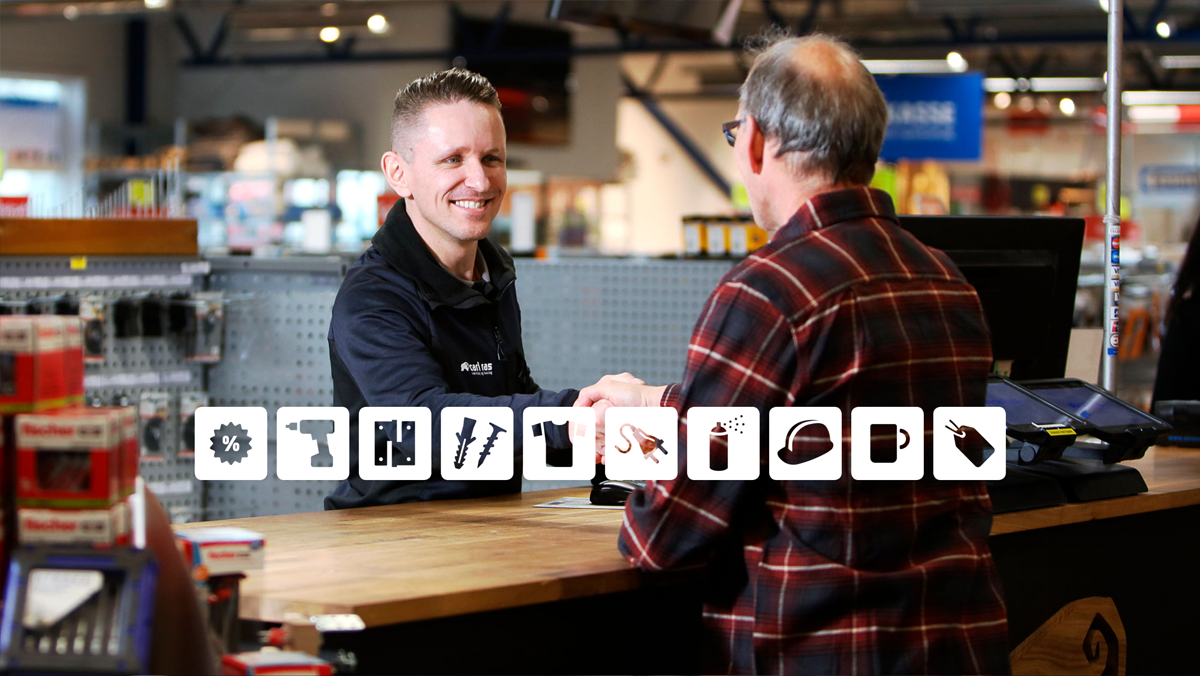 In the foreseeable future, Carl Ras wants personalization in search results to be as relevant as possible. These, like any other customer touchpoints, should be based on behavior and other customers' behavior online to make the customer experience as good as possible.
They also want to improve their e-mail marketing and make content and product recommendations as relevant on this platform as on their website
The journey towards a more personalized B2B business started years before 2019 with the manual work of connecting products across categories. What Carl Ras achieved by making their website more personalized was more than just an increase in conversions:
They have become trusted advisors and experts online as well as in the physical stores
The customer service team and staff in the physical stores now use Carl Ras' website as a sales tool for their customer interactions
Their website is also an ad platform for suppliers' brands
Customers with accounts find it easier to navigate on Carl Ras' site and find the products they need
Do you want to know more about this case?
A Raptor expert can share more about the product and answer any questions you have