Adapt to the new buying process in a fast-moving industry
The Electronics industry
Nearly everything we do – from exercising, entertainment, communicating, to travel and education – are somehow connected to an electronic product. 
There is a growing desire for people to stay connected and informed. Technology has been shaped to let consumers interact in a seamless and valuable way, moving the consumers of electronics forward.
Furthermore, the intense competition with technologies forces electronic companies to step up their game to stay relevant in this fast-moving industry.
When buying an electronic product, consumers heavily rely on internet research, peer reviews, and testimonials among others. With so many electronics brands out there, it's a necessity for electronics brands to have a unique digital marketing strategy.
If you have a strong approach you can differentiate your brand from the competition. 
4 key facts
How personalization impacts the
Electronic industry
"Having a personalized approach in our marketing channels is really important to us and is a part of how we stay ahead of our competitors"
Do you want to take your omnichannel strategy to the next level?
Download the Omnichannel Personalization guide and
find out how.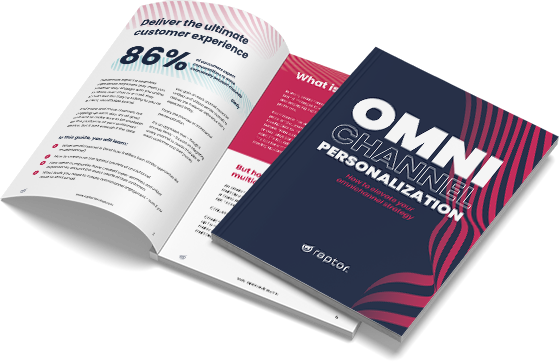 Focus areas for the electronics industry
Price regulations,

promotions

and creative profitability
The last few years, digitalization has changed the way we live. Consumers time online increases, priorities are shifting and there is a general need for connectivity. And this is not just on an individual level – large companies are also buying more tech products. 
Don't miss out on the increasing demand in your industry! Adapt to the newest trends and develop your business to be attractive for both B2B and B2C customers.
Be present where the customers are
Electronic shoppers desire to learn about the products online before maybe trying and buying them in a physical store.
Their customer journey comes in several variations and is not simply research online, buying offline. Other variations may involve purchasing online, picking up offline, returning orders in-store or alternatively trying products offline and purchase online.
So, what does that mean?
Your online and physical presence should complement each other perfectly, and an omnichannel approach is a must for electronic brands.
What is omnichannel? And how is it different from multichannel?
Effectively activating data means gathering all information across various systems and data platforms and collecting the data to get a single customer view.
Without a proper data activation process, valuable data will go unused and become worthless over time.
Data protection is important, and you need to comply with GDPR and optimize your data strategy in order to meet the ever-rising privacy standards.
The best way is to take full ownership of your data by focusing on 1st party data. Unify data from every channel and touchpoint to keep delivering the best personalized shopping experiences despite the new privacy regulations.
Personalization for the entire journey
Consumers want to access all inventory easily and shop both online and offline. Take advantage of this with premium personalization and reach a higher basket size.
When working with personalization, you can offer real-time recommendations to each visitor. This will make it easier to move them towards conversion by showing products related to their lifestyle.
Show them products that match their budget, style, brand and other preferences. And use the same data for spotting trends when making inventory decisions.
Unique customer experience for both B2B and B2C
Electronic brands must create an integrated ecosystem that adapts to both B2C & B2B customers.
Warehouses often receive B2B and B2C orders and in most cases, B2B orders include larger quantities and a different invoicing and fulfillment process than B2C orders.
You need to be aware of these differences and create a personalized customer experience for B2B and B2C.
Scalable customer journey and easy to implement 
Creating a unique customer journey doesn't have to be like hiking Mount Everest. It should be just as exciting, but not as extensive to complete. All you need is the right solutions and the right partner!
With our personalization tools, we can help you create a seamless and smooth customer journey, that ensures effective warehousing and on-timing promotion campaigns.
We take pride in tailoring each solution to your needs and existing tech stack, and we understand the importance of getting the most from your investment. That's why we schedule regular status meetings to make sure we are aligned and up to date with your needs and targets.
Wanna hear more about how we can support your growth with premium personalization and cross channel data activation?
Join our Electronics customers
whiteaway

proshop
T-Hansen