How Cotonshoppen.dk increased conversion rates by 142% from e-mail personalization

increase in conversion rate
increase in e-mail conversion rate
"There's no doubt that Raptor has played a major role in our growth adventure. We have more than 8000 products and variables which would make the relevant experience for each customer an impossible task without a proper recommendation solution."
You might want to say "Woof" from finding out exactly how Cotonshoppen.dk scaled their e-commerce dog store in only two years by making each dog owner's experience unique upon their webshop visit. It's a rather barking revelation. In this blog post, we will use our paws to dig deep into how recommendations on their website and in e-mail campaigns helped them achieve such great results.
It's not only Cotonshoppen.dk who has experienced a whopping success over the last decade. In fact, furry family members have never been a more profitable industry.
From 2020, the pet care industry experienced growth from $216 billion to $232 billion in 2021, globally speaking. The factors for this pet-splosion are many. Covid19 has kept many people home, freeing up time (and possibly money) to cuddle and provide new pets with toys and treats.
"21% of pet owners have spent more money on their pets during the Covid-19 pandemic than pre-pandemic."
Secondly, as ecommerces everywhere have experienced a tremendous growth over the last decade, it's no surprise that the enhanced experience when shopping from home also reached the pet care industry.
"While retail stores have seen a slow increase in buying, the online pet market has nearly quadrupled since 2013."
While the online pet care marketing has only recently exploded, Cotonshoppen.dk has been around since 2007. It's a genuine pioneer in selling dog products online.
Today, the company employs 25 people and sells more than 8000 products and 14.000 item-numbers from their location in Aarhus. Despite what their brand name indicates, they have branched out to all dog breeds, creating a non-stop shop for dog owners everywhere.
While Cotonshoppen.dk had recognized a gap in the dog care market, their growing success also uncovered an unfulfilled need to display the right products to the right audience.
When Zaki Vithen, ecommerce specialist, and Mia Viberg, webshop assistant, joined Cotonshoppen.dk in 2020 and 2021, they saw an opportunity to implement recommendation modules to guide customers towards a more relevant experience.
Making every interaction relevant
Before Raptor, 80-90% of visitors to Cotonshoppen.dk would use the search function instead of finding products directly through categories.
Alongside this, their e-mail marketing failed to convert subscribers into customers as they were clueless as to what kind of dog content would be most relevant to each person. More precisely, they needed to tap into each dog owner's preferences and communicate their need exactly.
Zaki described the situation this way:
"Before Raptor, we manually chose which products should be part of our newsletter. It was a matter of "this feels right" or a gut feeling that could easily be way off. We needed personalization to give us real-time data on what was truly relevant in the eyes of each individual subscriber, and not us." 
Cotonshoppen chose Raptor's Web Personalization and Email & Triggers to solve just these challenges, placing recommendation modules on their website and in e-mails. 
The point was to group popular products in plain sight of visitors so they wouldn't have to deep-scroll for every quest, neither big nor small.
The conversion rate increased by 14% (from 4,05 % – 4,64%) in just one year.

"There was no doubt that visitors who saw relevant products were more prone to buy. Our average order value increased alongside the conversion rate, making recommendations modules a powerful booster on our platform."
Continue the customer journey in an e-mail
Cotonshoppen.dk's success was not only visible from their website traffic. Their e-mail marketing efforts also quickly made their revenue sky-rock because of a more personalized approach. 
"When we implemented recommendation in our e-mail marketing campaigns, we turned our focus to how we could give our subscribers real value, tips, and advice on everything dog-related rather than just pushing random products. We used the data we had from their website behavior alongside what they had chosen to receive more information about. The result was an increase in revenue by 142% in just one year."
Now, new subscribers pick the box most relevant to their needs: Dog grooming and expositions, tips and tricks, news, and offers. The goal is to align expectations because, as Zaki explains, if you are a Labrador owner, you are not necessarily interested in small hair clips. The shoe leash must match its owner, or the connection will quickly be lost.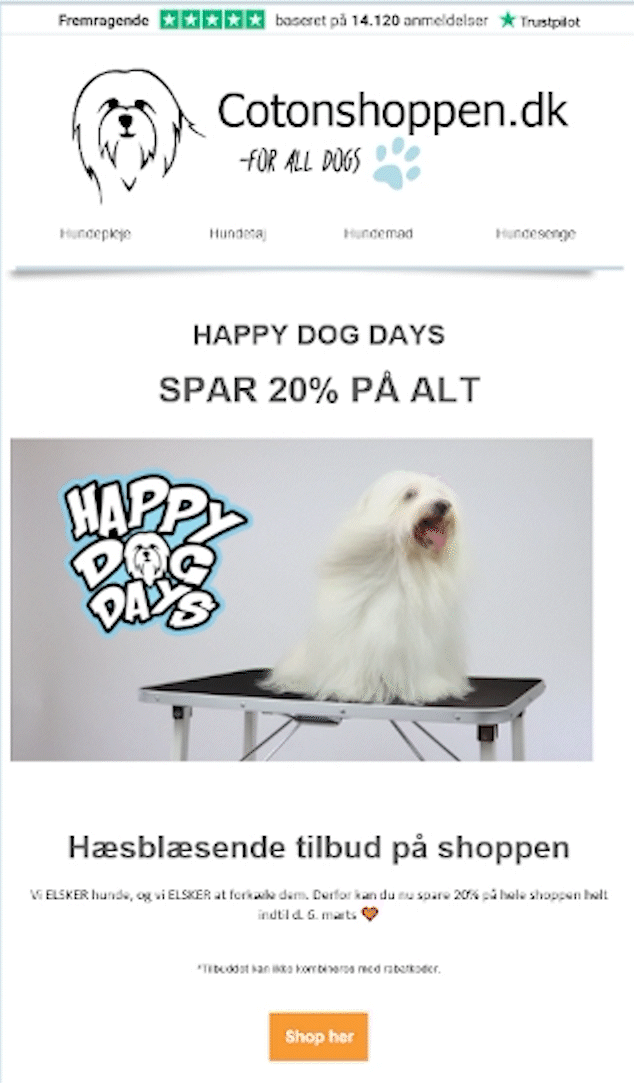 In only one year, Cotonshoppen.dk went from 7.700 subscribers to 27.000. And while they acknowledged many factors play a part in the success story, increased relevancy and using stock data automatically play a significant role.
"Before, our e-mail marketing was pushing content that was far from relevant. Now, we don't have to consider if the product displayed is in stock. We just know from picking a category in Raptor that the customer will receive relevant offers. It's freeing up a lot of time for us and, on top, creating a better experience."
The next step for Cotonshoppen.dk is to include more segmentation in an e-mail to truly tap into the different dog breeds and provide relevant offers aligned with specific preferences. Zaki and Mia both declare to have only just started their personalization journey.
"There's no doubt that Raptor has played a major role in our growth adventure. We have more than 8000 products and variables which would make the relevant experience for each customer an impossible task without a proper recommendation solution."
increase in conversion rate on web in one year
increase in e-mail conversion rate in one year
Ever since Cotonshoppen.dk got personalization on both its website and in the e-mail they have experienced tremendous growth.
They realized a need to reach customers with content relevant to their furry family members at home. Providing customers with specific product recommendations on their website boosted their conversion rate by 14% during the first year of implementation.
Letting customers choose a topic of interest upon sign-up to their newsletter led to a rather significant 142% increase in e-mail conversion rate during the same period.
The key was to give subscribers the content deemed relevant to their (and their dog's needs) and not get tangled up with the endless selection of products or articles. It's all about personalizing every touchpoint so the subscriber senses the relevancy and feels a connection with the brand.

Improve your e-mail performance with dynamic e-mails and by tracking your subscriber's behavior across your website.
Do you want to know more about this case?
A Raptor expert can share more about the product and answer any questions you have