Combining Creatives & Algorithms

ILVA
Industry: Leisure, Other
Partner: Novicell, Adjust
Solutions:
Website Personalization
Behavioral Triggers
Personalization for Banners
E-mail Personalization
Increase in click-through rate compared to industry standard
ILVA is a Danish chain of furniture stores, offering bed-, dining- and living room products. They also have a large number of stores owned by franchisees all over the world – from Northern Europe to the Middle East.
ILVA was looking for a flexible and engaging banner solution. Therefore, Raptor and Adjust built a solution that contains flexibility to choose among the various different algorithms from Raptor and add filters like minimum percentage discount through the Adjust user-friendly CMS system where ILVA can change backgrounds, CTA's, headlines, etc.
This gives ILVA great flexibility and allows them to create an infinite number of banner versions instead of just creating a single and static banner per campaign. And hereby also minimizing ILVA's budgets regarding internal and external resources.
ILVA use their banners in both "always-on" targeting- and retargeting campaigns, but also "short-term burst" campaigns like birthday, black friday, seasonality, etc.

ILVA can, with the help of Raptor, recognize the user, and therefore the algorithms mentioned above are personalized in relation to the individual user's preferences. Thus, for example, it will be the most popular products in relation to what the individual user has shown interest in.
They can also choose between different algorithms to filter the products shown in their display ads:
Personal Recommendations
This algorithm is used for retargeting purposes in terms of previous visitors. Make sure to boost products they have already shown interest in as well as similar- and related products.
Product Category (Most Popular in Category)
 This algorithm is used for week-to-week campaigns such as "30% on all sofas this weekend" combined with a discount threshold. This enables ILVA to display the most popular products within the discount range.
Most Popular Products
 This algorithm is used for campaigns such as Black Friday and birthdays combined with the build-in minimum discount thresholds that can be set up. This enables ILVA to display the most popular products within the discount range.
Popular in Brand
This algorithm allows ILVA to run campaigns based on brands, where the product within brands, are chosen based on popularity and preferences whenever the user is known. ILVA can also sell exclusive campaigns for suppliers in return for better payment terms, kickbacks, etc.
Examples of some of ILVA's creatives
 ILVA have full control of their banners and can change numerous elements in these since they have a very versatile and flexible solution – ensuring the possibility to change and redesign their banners on a day to day basis.
Why should you choose a solution like ILVA?
ILVA have chosen a premium solution powered by Raptor and Adjust to achieve the full potential of their display ad solution, optimize their media spend, as well as securing them a competitive advantage.
Stand out from the crowd with a relevant and personal solution
Customized towards your brand idendity
The marketer in control
Adjusted towards business objectives
Read more: Personalization for banners
Two of ILVA's campaigns that have performed particularly great have been their "Happy Days" and "Shopping Spree" campaigns.
Both campaigns have achieved above-average click-through rates and very high engagement rates, which tells us that users have found ILVA's banner content relevant and interesting enough to interact with. Engagement rate is measured from all the interactions a user makes with the banner such as clicking on the product catalog, etc.
Campaign results – "Shopping Spree"
Campaign results – "Happy Days"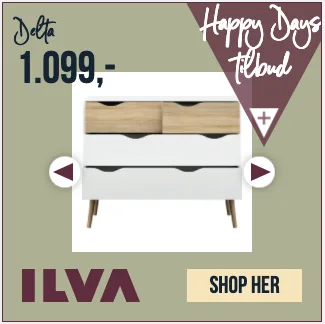 Programmatic buying is a relatively expensive marketing channel, so it has been extremely important for us to maximize the value of each bought impression. The solution also had to be scalable and free up time to optimize targeting and delivery by cutting hours spent for setup and banner production. We have managed to succeed with both things together with Raptor and Adjust. We can now spend our time improving targeting and testing new things which are of high value to us.
Users only have a limited attention span, and due to banner blindness, static and "boring" banners stand no chance in getting users to engage with them.
Remember that buying the right audience, at the right time isn't enough if the messaging is bad.
A premium solution where you are in control is the right choice if you are ambitious and want to stand out with your display ads.
Use your collected customer data to enrichen your ads and as a competitive advantage.
Fight banner blindness with engaging formats
Provide value to your customers and lead with personalized banners
Use first party data as a competitive advantage
Do you want to know more about this case?
A Raptor expert can share more about the product and answer any questions you have