Virus-infected recommendations and how to cure them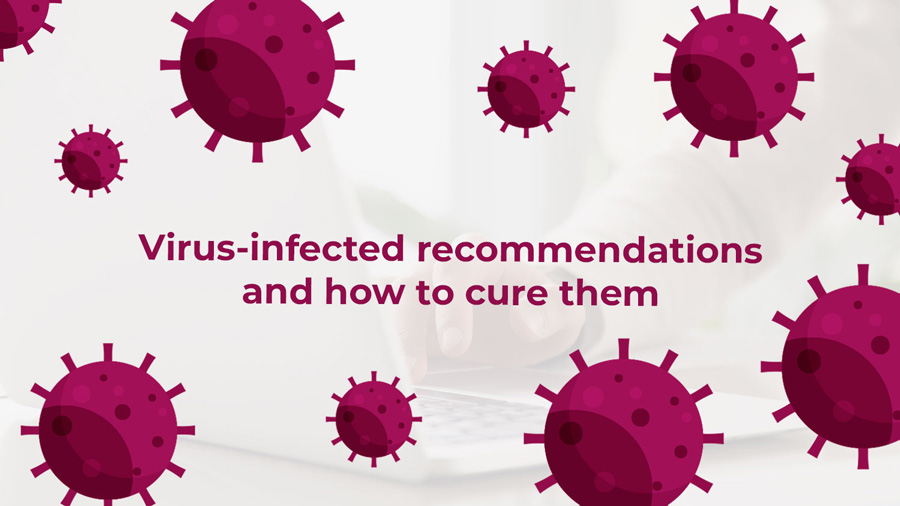 Online user behavior infected by COVID-19 can distort product feeds and create recommendation-related problems for companies that are using recommendation modules on their website and in their emails.
Extreme Corona demands
In the last few weeks a wide range of Raptor users reported problems related to the viral COVID-19 disease.
The virus, and especially the national lockdown Denmark is under right now, has created great demands for items like: hand sanitizer, face masks, online grocery shopping/take away, childcare products and toys, summer house bookings, tools and building materials for various home and DIY projects. These demands mainly affect online pharmacies, -grocery and toy stores as well as the construction industry – causing products to go out of stock or in remote storage indefinitely.

Because of this dramatic increase and change in online shopping behavior, one of our customers within the construction sector completely ran out of facial masks. The massive amount of searches for these continued to boost the masks on their webshop even though they were sold out. A quick tweak of our algorithm, fortunately, solved the issue.

Fear igniting clickbait
While some sectors are booming with new revenue, others are experiencing an economic downside to these difficult times. This entails: sales of clothing, consumer goods and tickets for concerts, shows, and travel – which of course has a huge impact on their online commerce.
The outbreak of COVID-19 is also making major headlines around the world – creating uncertainty among the public. People, of course, are curious and searching around the web for more information regarding the virus. So, when the media presents breaking news about virus-infected and quarantined cruise ships or hotels, this creates an accompanying extreme click behavior among online users.
Due to this kind of user behavior a similar issue was reported by one of our customers within the travel industry, who had guests at a virus–infected hotel. This, of course, gained a lot of user interest and clicks, causing the hotel to end up in most recommendations – overshadowing other relevant hotels that were not virus-infected. Here another swift algorithm fix was applied.
Curing infected recommendations
As these virus-infected times show us, personalized recommendations are always controlled by your users and their everchanging online behavior. If you, like many of our existing customers, have experienced recommendation related problems on your website, caused by COVID-19, we are here to help.
We can both customize, regulate and adapt our algorithm to fit your unique experience or problem. For example, a simple periodic boost or removal of specific products and content can set your website/online marketing effort on the right track again.
If you seek advice or help regarding your website and online marketing during these difficult times, please do not hesitate to contact Raptor support. We can quickly set up an online meeting.
Call us directly at: +45 3136 7298 or email us at: support@raptorsmartadvisor.com.