Triggers – Raptor vs. Platform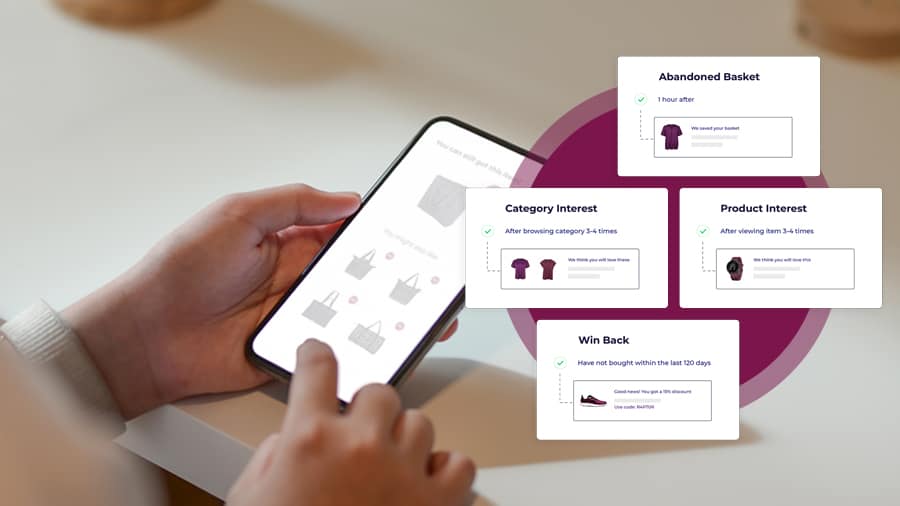 Most email platforms have the ability to send out email triggers such as abandoned basket, product- and category interest to mention a few.
It seems logical to use a platform, you already spent money on, to send out email triggers.
Which raises the question, why should you involve a third-party vendor?
There are many reasons why platforms triggers are not always the right choice, and why they don't always perform as well as triggers from a third-party vendor like Raptor for several reasons.
Email platforms are good at managing lists, ensuring GDPR compliance, and are great at delivering visual good-looking emails. But they struggle at delivering the right message, at the right time which is where Raptor excel.
Real-time
Delivering updates in real-time means customer data is processed within milliseconds, so your emails are displayed with the most up to date products in emails.
As a user's behavioral patterns change, so should the recommended products and it must happen instantly to match the users' expectations.
If you are not updating in real-time, but in batch, you are going to have problem if users have additional interactions and behavior in the time between an email is sent, and the moment they open the email.
Example (subscriber adds another product):

A subscriber adds a product to the basket but does not complete the purchase.

An email is then set to trigger an hour later, but in the meantime the subscriber adds one more product to the basket. What most platforms would do is just to send the email with the first product, but Raptor can postpone the email for another hour, so the second product also is added to the email.
This is also important with price changes if the specific product in the time of being in the basket suddenly gets a discount or the discount expires.
Example (prices change during the latency period):

A subscriber abandons a basket, and during the latency period, a product from the basket goes on sale with a discount.

A platform will show the product at the normal price, whereas Raptor shows the real-time discounted product price, making the conversion much more likely. Likewise, if the subscriber adds a product on discount to the basket, but the discount period ends during the time the email is not opened, it will not be the discount price that is shown.

Platforms would show the discount price, even though the product is not on discount anymore, and when the subscriber then clicks to enter the basket page, they will be disappointed to see that the product is not on sale anymore.
A real abandoned basket trigger
Some platforms are having trouble sending real abandoned basket emails.
What is a real abandoned basket email?
The ideal abandoned basket email is sent whenever someone adds one or more products in their basket, and do not purchase/place an order.
Before some platforms can send abandoned basket emails, the subscriber needs to fill out all their information and go as far as the payment options, which is an abandoned checkout, not basket.
That is way too far in the purchasing process, and if a user gets as far as the payment options, they most likely will complete the purchase, so it is very few abandoned basket emails that will be triggered.
Raptor will help you send abandoned basket emails, whenever a user abandons a basket no matter if they even visit the basket page, the only requirement is that the user has given their permission.
Read more: Bon'A Parte Behavioral Triggers Case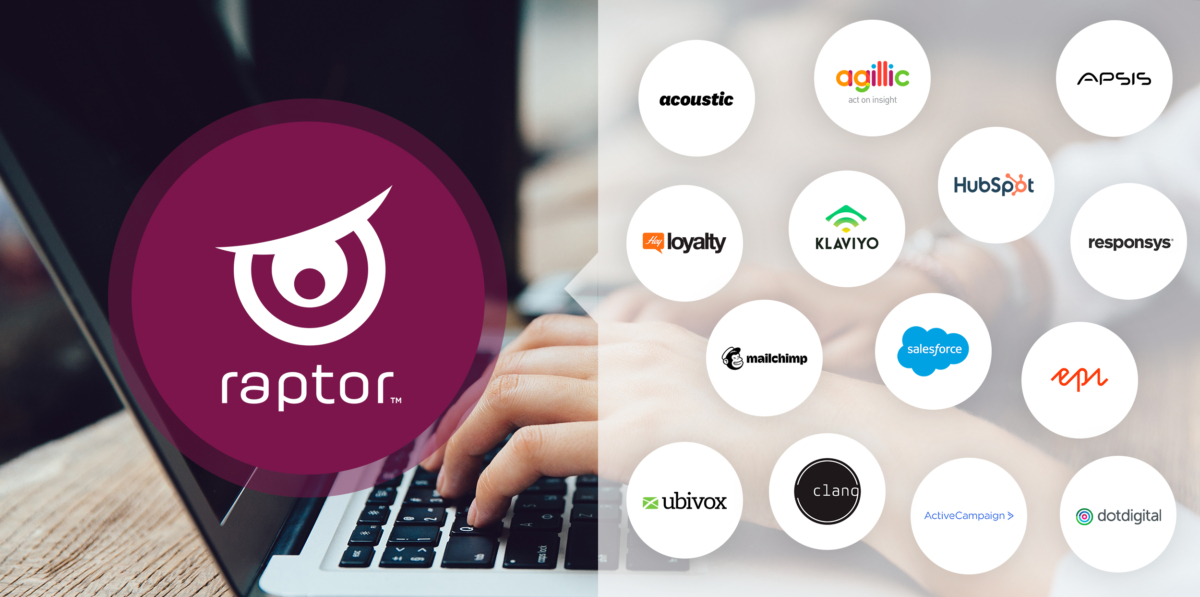 Recognize more through our tracking
The more you can recognize and identify, the more emails you are able to send, which in the end will result in more revenue. Some e-mail marketing systems must have had clicks through their e-mails before they can recognize the customer. However, Raptor tracks the user the moment their e-mail address appears on the site when they make an order, sign-up for newsletter, login etc.
Trigger emails are only available to send to users who have given their permission. However, Raptor is still tracking the users before they give their permission, which means that their actions such as clicks, and page visits are still tracked.
Example:

A user who has not given permission yet visits a specific product two times within a week.

Before the user makes the third click, the user decides to become a subscriber, and then makes the third click which means that the product interest email is triggered. Without Raptors tracking, the user's actions before becoming a subscriber would not be of any use.
Recreate products inside the email
Emails with an image of the product(s) simply converts better than plain text emails.
Some platforms are not able to generate images of the specific product(s).
Whether it is an abandoned basket product or product/category interest products, platforms are not always able to display the given product(s). So, when a user receives a reminder email, they will open an email with text saying which product they have in their basket, and not an image of the product.
Raptor can recreate the product inside the email, and if the user adds another product to the basket in the time between an email is trigged until it is sent, that product will also be added to the email.
Recreate basket content on the basket page
Imagine a subscriber adds a product to the basket on a computer but does not complete the purchase. An email is then triggered, which an hour later ends up in the inbox, the subscriber then opens the email on a phone, and decides to click on to the basket page, but the basket is empty.
Why?
This is a problem most platforms are struggling with, since they are not able to save baskets across devices. This creates a problem and you need to rely on the user opening the email on the same device as when they abandoned the basket.
Raptor saves the basket across all devices, so no matter if the subscriber abandoned a basket on the phone, and opens the email on the computer, the basket will always be there.
No design barriers/limits
Having only a few different templates to pick from is not ideal, especially if you want the templates to match your brand identity, which can be hard if the limits within predetermined templates are strict.
Raptor's email triggers are simply just an addon to your existing templates which means there are no limitations and you can use the templates you already use, without having to compromise on your brand identity or design.
The only thing it requires is an integration from your email platform to Raptor's backend into your current setup, without you having to change anything.
After the integration, our system can track whenever an email should be triggered, and send the information back to your platform, which then will send the email.
In Raptor's backend, you can adjust parameters that determine how often a user can trigger an email and how aggressive you want to be.
An essential word is freedom. Which is not something you have when you are using platforms with boundaries and limitations.
Custom triggers
Platforms often only have a set of predetermined triggers, such as the popular abandoned basket. But if you want to work with more advanced triggers such as our Price Drop or Back in Stock to mention a few, it is simply not possible in most platforms since they only have a couple of different to choose from.
So, if you eventually want to start using more advanced triggers, you must move outside the platform and integrate a third-party trigger vendor.
An agile trigger engine means that many different adjustments are available. There is no fixed framework, which means that there is much more room for development and innovation.
Read more: Price Drop and Back in Stock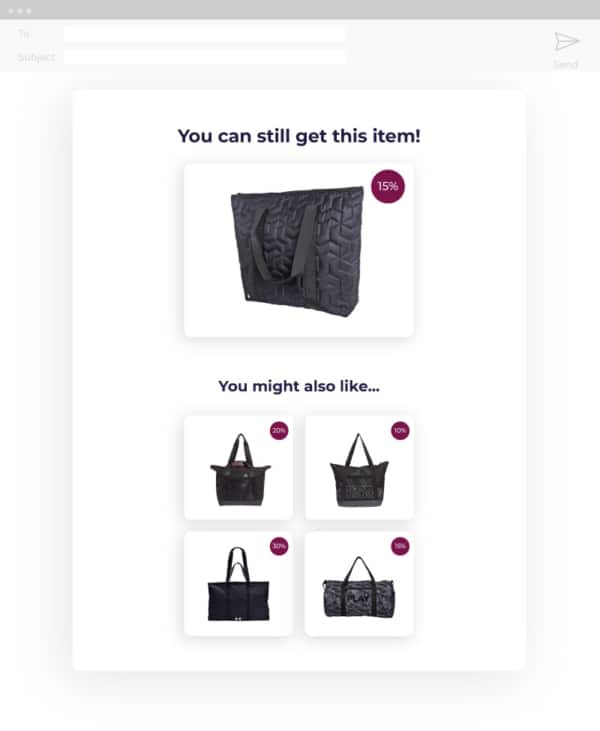 Why should you choose a third-party trigger above your platform's triggers?
Staying within the boundaries and limitations of an email platform's trigger options can be a good choice, if you have no desire to deliver triggers with personalized recommendations at a high level that will improve your performance.
The ability to to send real abandoned basket emails while recognizing all subscibers, even before they become one which will allow you to send abandoned baskets and product/category interest emails, which in the end will result in more revenue.
Real-time updates are a must, if you want to deliver customer experience at a high level with the most precise message to your subscribers combined with the ability to recreate images inside the emails and recreate the basket page across devices.
Freedom is the key word when it comes to design and the progression of your business.
If design options are limited, you are often not able to stick to your brand identity, which is important for your subscribers to recognize. Likewise, the progression of your trigger work, should not be stopped due to the limits of your email platforms boundaries.