Customer Data – From insights to operationalization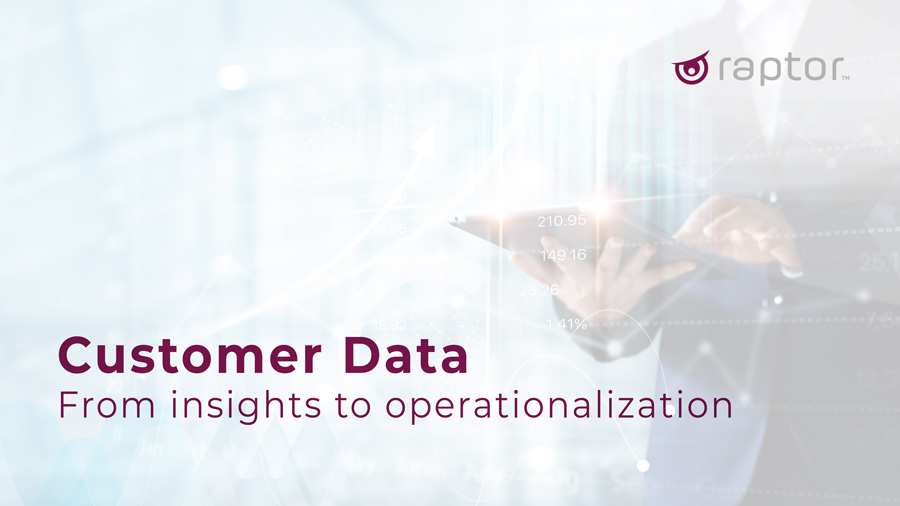 One of the most important assets for companies today, regardless of their business area, is access to customer data.
Companies understand the importance of gathering data and using it to build a foundation to reach relevant insights, but it is very few that develop more than a fragmented customer view. In a market where competition is increasing and customers expect better and more relevant and personalized service, customer data is and will be one of the biggest competitive advantages that companies can possess. 
To collect data is only half the job, because what do you do with the collected data that is now in the company's many different systems.
Which challenges are our clients facing concerning customer data? 
Many companies have succeeded in reaching customer insights within their different channels, but the challenge is the division of channels. Data is placed in silos in different departments, which results in a fragmented customer image. A typical scenario is isolated customer data stored in different systems, such as ERP-systems, CRM-systems, as well as tracking- and web analytical systems.
The starting point is that the available data isn't connected, whereby each customer seems like an individual customer in each system. The conclusion is that even though companies work structured with customer analysis, the holistic image of customer data across different channels fails. The same is often true for the type of information overview that companies seek – where, which, and when customers buy products, as well as how the customer journey looks from prospect to loyal customer, is still an unknown area to many companies.
A crucial step to achieving useful, valid insights, is, therefore, to consolidate customer data. This can be done by tracking the customer interactions across touchpoints – both in physical stores and in digital channels. In technical terms, this process is called Profile Unification, and the result of the process is a  Single Customer View. Each user-identifier in the different data sources are linked together to form one primary user-ID. That way, e-mail, cookie-id, device-id, and loyalty club ids are connected to the same user. This process includes a variety of data processing methods such as deduplication, conflict management, and probabilistic matching. 
Barriers between offline and online data
Many companies that operate both offline and online, face the challenge of connecting these two channels. Recognizing a customer, who makes an offline purchase one day, and an online purchase the next day is very difficult for many companies. They are missing the connector in the form of a unified id that makes it possible to recognize the customer across channels.
Companies with a loyalty club have a huge advantage in connecting offline and online interactions to the same customer. If they can register an offline purchase through their loyalty club, it will often be possible to recognize the customers again through Profile Unification, when they interact with the company online.  
Recently, new technological opportunities have surfaced as complementary additions or supplements to a loyalty club that can be used to connect offline and online data. Tokenization is an example of a technology that can be used to recognize customers through debit card numbers, face recognition, beacon, Wi-Fi location, and more. 
From analysis to execution
The next challenge is to go from insights to operationalization. Whether it concerns a big customer analysis, or a sub-element in the customer journey, it often seems like a big challenge to act on the insights that companies have achieved on their customers. One thing is to conclude that 80% of the company's customers buy shoes in physical stores, while the last 20% buy online, but many companies do not act on these insights with concrete actions.
In many cases, generic campaigns do not take into account the individual customer's consumer behavior, preferences, and intents. 
The companies that embark on personalized campaigns will face two challenges. (1) They lack Profile Unification processes and thus  Single Customer View, and (2) they lack integrations between different channels, where customers should be presented with personalized and relevant communication.
This leads to a manual process that involves specialists with database knowledge, and a big amount of handheld processes towards the customer with specific attributes. Ultimately these challenges mean time-consuming and ineffective execution of campaigns, which is often only orchestrated in one or two channels. 
Concrete solutions to these challenges
To activate the data you have collected in different systems, you need a platform that can handle all the different customer interactions, and simultaneously consolidate your data.
Everything revolves around unifying the different IDs that each system has given the customer. You want to create a single ID per customer, a so-called  Single Customer View. By doing this, as mentioned, you can create an overview of the individual customer's interactions and behavioral data. Having a Single Customer View also means that you can communicate relevant messages across all your channels – all from the same platform. 
Businesses that are serious about their work with customer data need to start consolidating their customer data in a Customer Data Platform (CDP). A CDP is a system that can be used to activate customer data.
The first thing you must do is identify the most important customer data sources and ingest the data into the CDP. During this process, the platform unifies the different identifiers, and with the help of tokenization technology, a Single Customer View is achieved.
Following the first step, it becomes possible to define different audiences. Based on concrete business logic, you can define everything from VIP-audiences and brand-lovers to possible churners. These audiences can then be activated in automatic flows into your activation channels. (Email, SoMe, etc.) The company's task is now to define how the communication towards the specific audiences should be. Thereby the task goes from being manually executed campaigns to setting up automated flows, thus ensuring that customers in the defined audiences always experience relevant communication. When the audiences are set up, they are automatically maintained in real-time.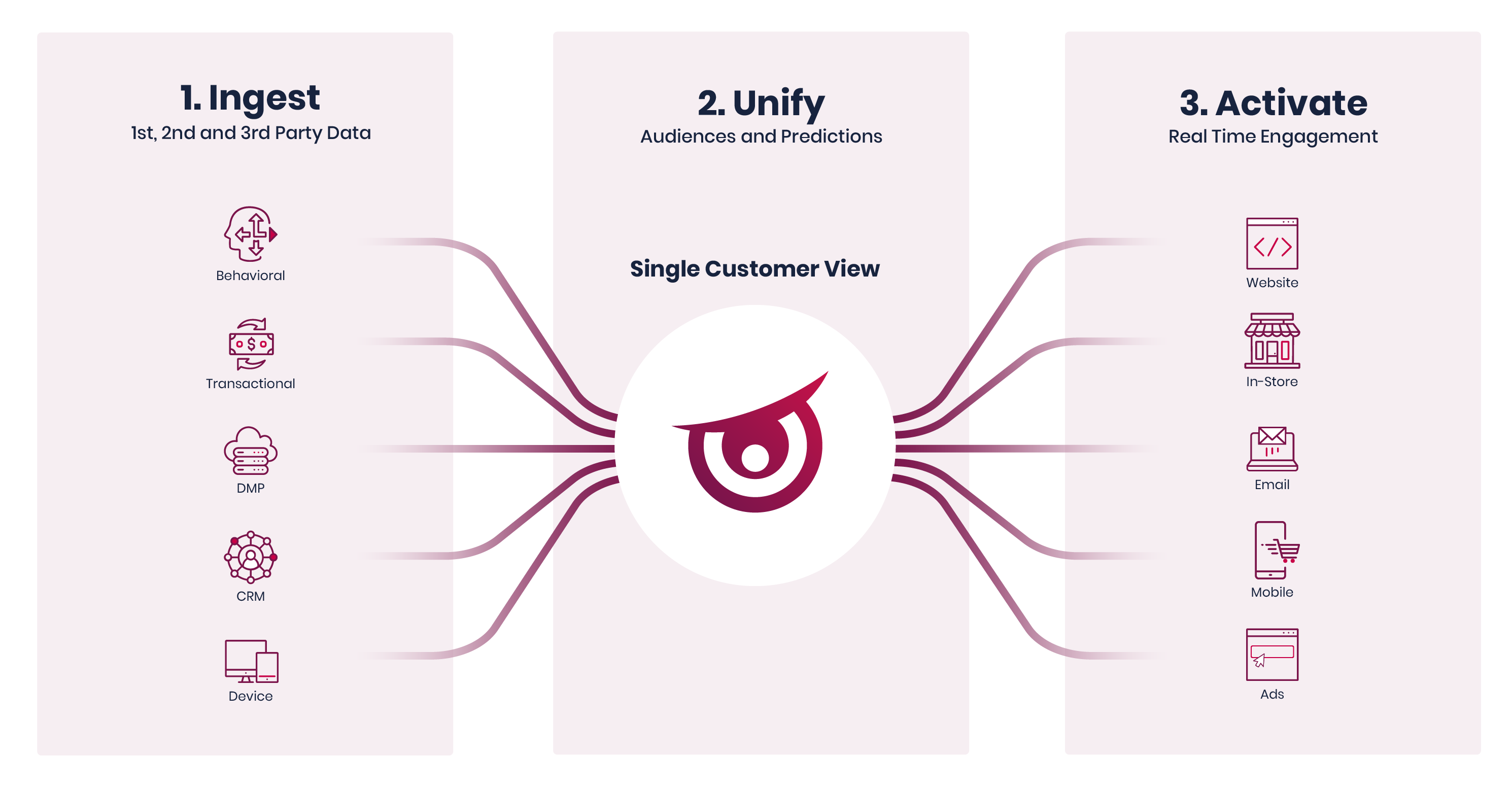 Data is integrated with a CDP via Ingest. It can be arbitrary data sources that integrate, but as a minimum, they would typically include web interaction data, offline sales transactions, and personal data from loyalty clubs. The data can be ingested in both batch and real-time.
As described earlier the customer data is consolidated across customer interactions and is exhibited in a Single Customer View, with the help of Profile Unification. Therefore, a company can design rule-based audiences across channels and touchpoints. There is even the possibility to use machine learning models in the audience design, for example, product category affinities, prediction of churn probabilities, and estimated future lifetime value.
Audiences are executed and orchestrated via Activation in the different channels (CMS, E-mail, Display, POS, Customer Service, etc.). This happens automatically and in real-time, to eliminate all manual workflows.
If a CDP is combined with a recommendation system, it will be possible to execute a fully automated communication strategy, where the target group, messages, and content are 100% personalized.
Key takeaways
Unify all your customer data from every channel and customer touchpoint to achieve a Single Customer View
Build advanced audiences that segment users based on all your customer data sources
Combine your CDP with a recommendation engine to create a unified customer experience
A Customer Data Platform is the key to omnichannel personalization