Why you should choose an agile personalization engine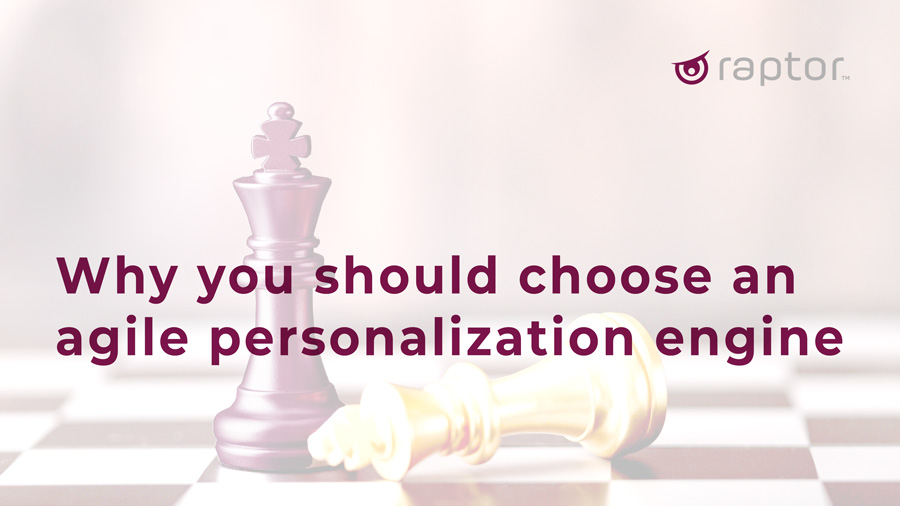 Today's customers demand and expect an individual customer experience, no matter the channel they use to engage with your brand.
Unconscious or not, customers prefer brands that provide a customer experience with personalization as the key element. In other words, they want your company to know them and their preferences.
If the customer experience feels impersonalized, it leads to frustration and unhappy customers; a less than ideal situation for any company.
Businesses implement personalization software because it has proven to increase metrics such as conversion rate, product clicks, revenue, time spent on site. At the same time, it decreases bounce-rates significantly.
The demands and expectations of customers put pressure on companies to deliver a fully personalized customer experience. In their search to fulfill the customer's demands, companies aim to find the optimal personalization solution to help them boost their performance and satisfy their customers.
If you represent an ambitious commerce brand, it is important to choose a personalization solution that can grow with your business and ambitions. The best fit for your organization is unlikely to be a solution that operates with a "one size fits all" approach. With limited agility comes limited offerings and possibilities for growth.
Read more: The value of a relevant customer experiences
What is a non-agile personalization engine?
When it comes to personalization solutions, non-agile solutions are easy to implement. They are often "plug and play" solutions, which require very little integration. In many cases, they act as a plugin that can be integrated with a company's Content Management System (CMS).
These solutions are often ready to deliver "personalization" in no time. However, true 1:1 personalization requires a certain volume of accurate data, and that data must then be paired with individual users and made operational in all channels.
The "personalization" offered by these solutions is often just recommendations portrayed as personalization. When solutions recommend the "most popular products" modules, they simply display the products that are either bought or visited the most.
Such recommendations are not personalization but simply recommendations based on the total amount of purchases.
This causes relevance to decrease since the recommendations are based on group behavior rather than the individual user.
It is important to note that these recommendations are part of any personalization solution. However, you can't think of recommendations as "the whole package" if you want to succeed with your personalization strategy. You need to be able to recognize micro trends and affinities for each user.
That being said, a non-agile solution might be the better choice for some companies. If you do not have the resources, or budget, to handle an advanced personalization solution, you are better off with one of these solutions. They are often less expensive and easier to implement and handle.
A non-agile solution is not scalable, and the solution you get from the beginning is often the solution you will have to keep since there are limited possibility for custom development.
Where does Raptor differentiate from other solutions in the market?
A Raptor personalization solution is not the right fit for every company. Raptor's personalization engine is highly sophisticated and requires dedication from our clients, to get the most out of the solution. However, despite being an advanced and sophisticated solution, Raptor is easy to implement.
Raptor won the award because of a superior product, which enables clients to easily collect and act on data. In spite of the complexity and many possibilities of the product, the implementation is easy, and businesses can quickly start working with segments and building customer experiences that increase relevancy and conversions.
Our personalization engine is built from a solid understanding of advanced algorithms, data mining, and machine learning. Through continuous training, our platform collects, learns, and recognizes each individual and their interactions – enabling marketers to empower relevant content based on user behavior across platforms and channels.
We share and adapt to your ambitions
A Raptor solution is for ambitious companies, looking for a personalization partner that wants to see their clients grow and be a part of their journey.
Our personalization engine is far from a "plug and play" solution. It requires time to gather enough data to produce the most relevant personalized recommendations. Raptor's personalized recommendations are ready for display from the beginning, but the more data our algorithm collects, the more precise and relevant personalized recommendations it can present to the customer.
Raptor is a best of breed solution, meaning that we focus on what we are most skilled at. We deliver the best personalization solution on the market, and we integrate and implement our algorithm into the different channels and platforms that our clients are using.
Key features
A key feature is that Raptor uses cross-device tracking, to ensure that our clients can track their customers through the whole customer journey, no matter the device.
Creating a signature for each user makes it is possible to track behavior through all
platforms and channels. This helps our clients create a journey where the customers only see personalized and relevant content from an online ad, to the website, to the physical store – a true omnichannel experience.
Raptor's personalization solution is a scalable solution without limits. We always encourage our clients to be creative with our modules and challenge us with new ideas. Raptors modules can be customized, so they fit the specific clients' wishes and needs. A Raptor client will never outgrow our personalization solution.
Raptor is a channel and platform agnostic, which means that we integrate into every channel and platform. Therefore, no matter the tech, integration is always possible. This is very important to us since our clients should not be limited in their selection of providers and platforms.
Choosing a personalization provider
Before choosing a personalization provider, you must make the right decision for both your current and future situation. If you only think about the current state of your company, you might outgrow your personalization solution at some point.
You should keep in mind that quality and price, are generally connected. Therefore, it can be a warning sign when personalization providers offer their services at much lower costs than the rest of the market.
In these cases, you might be missing out on support, agility, customizability, and performance. Low prices always come with a cost.
Raptor's personalization is sophisticated and requires resources to get the most out of it.
Dedicated marketers can present their customer with highly advanced personalization across all channels and platforms.
Raptor is the right personalization provider if you have an ambitious and dedicated team that is eager to boost performance through personalization. Our solution is scalable and agile, which means you will not experience any blocks or outgrow it. Our machine learning, data mining, and advanced algorithms will deliver the best personalization on the market.
The Best E-commerce Tool
May 23rd was the day of FDIH's E-commerce Awards 2019, and it was a day of celebration for everyone at Raptor Services A/S, as we took home the 1st place for Best E-commerce Tool and 3rd place for Best E-commerce Case.
Read more: Raptor won the award for Best E-commerce tool 2019