What are 4 Key Benefits of a Customer Data Platform?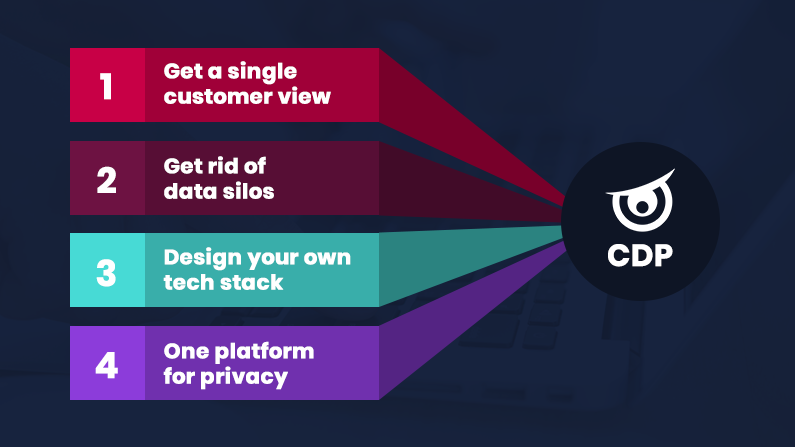 Understanding the benefits of a customer data platform (CDP) can become quite the mind puzzle if you have no idea what to look for.
In a desperate moment, you might think you need to interview stakeholders from every team or become a full-fledged wizard juggling number between spreadsheets to know the outcome of implementing a customer data platform.
You don't!
What you need is a clear overview of the advantages a CDP provides for your business and your strategic goals. You need to be armed and ready if you are in a position to fight for a CDP and, so here are the top 4 reasons to keep going forward.
So, let's dive right in.
I think most modern organizations are motivated to work with customer data or will be in the near future. They have to be if they plan on connecting with customers and becoming memorable. Many have already started but in a more simple and static setup, where data quickly expires and the process is too manual to handle long-term

With a Customer Data Platform …
1. You get to understand your customers through a Single Customer View
A CDP enables you to understand your customers on a 1:1 level. What does that mean exactly? Well, it means you can catch micro-trends, deliver accurate product and content recommendations, and manage your customers' journeys – all through insights you get from every single customer.
A CDP develops a single meaningful view of the customer in real-time, whether from their interactions in the physical store (assuming you have a customer loyalty program) or when they visit your website or app.
You can act on the data you get from all channels and customer touchpoints, allowing you to manage your customer relationships truly.
Maybe you also need to read: 3 Questions to ask before you buy a CDP
2. You get rid of Data Silos
Let's be realistic: With every new customer touchpoint developed and activated by your marketing, sales, or IT team, a new silo of data is also created.
Isolated and siloed data can block your efforts towards scaling personalization, and they can harm any attempts you make to understand who your customers are and where they come from.
A CDP gives teams access to leverage customer data across departments – tearing down the data silos that prohibit growth and transparency. 
3. You get to design your own tech-stack
A CDP enables you to handpick the best-suited technology (or keep the one you already use). How? A CDP is vendor-neutral and takes in data from any sources you have.
Audiences and predictions are set up centrally in the CDP and applied across various technologies, saving you time and energy if you want to replace one technology with another.
4. You get one place for handling privacy and consent management
In this day of age, working with data across multiple systems is not only inefficient but a careless move if you want to apply to GDPR and rising privacy standards. Governing the flow of customer data through all your systems is critical to keeping up with compliance.
Read more on why you need a CDP before Google Kills third-party cookies
Want to personalize your customer experience across all channels?
Then our CDP Buyers Guide is just the thing for you!
Why a Customer Platform is crucial in times of change
With customers' new and improved ways to interact with your brand on multiple channels, the relationship between you and them is changed fundamentally.
Take live shopping as an example. Here both online and offline channels are used. Products are sold directly through video streaming on platforms such as Facebook, Instagram, or Amazon. The shopping experience combines the best from two worlds: Making the online experience similar to the one we know from physical stores and collecting customer data as part of the online experience.
A customer shifting between digital and physical spaces necessitates a place for you to understand their actions. A place where their data is united, their profiles refined and updated according to recent activities and changes in their lives. A Customer Data Platform provides this space by developing a single customer view in real-time. You get insights here and now, allowing you to manage campaigns and use them for targeting later on.
While many benefits of turning to this technology are listed above, you also need to encompass the financial aspect of the CDP investment. According to Gartner, the cost of poor data quality annually amounts to 15 million dollars, which a solution supporting both data collection and activation could help with.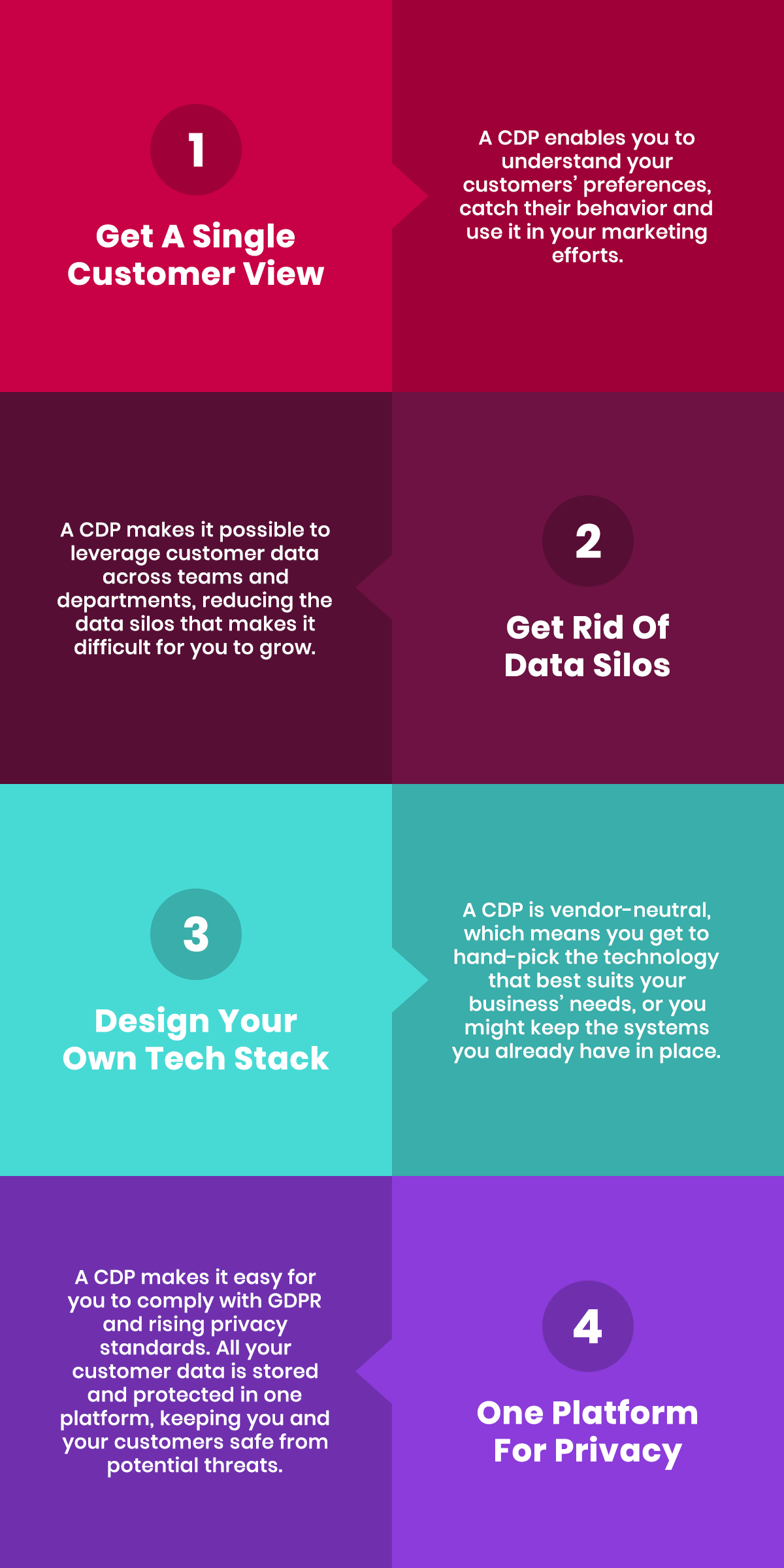 Want to know more?
We answer any questions you might have about the Customer Data Platform and why it matters to consider a future-proof platform for handling customer data.