Student Frontend Developer

Information
Deadline: As soon as possible

Type: Part time
Team: Tech
HQ:
Ny Banegårdsgade 55, 1.sal (soon Åboulevarden), 8000 Århus C, Denmark

Raptor Services is a market-leading SaaS company creating solutions that are used for orchestrating, targeting and personalizing communication cross channels. We are a well-consolidated growth business with strong ambition in both Denmark and internationally.
Raptor's machine learning algorithms deliver personalized content and product recommendations on a high level across all channels and platforms to more than +300 customers in both Denmark and globally.
Now, we are looking for a Student Frontend Developer who wants to join our journey towards more personalized customer experiences.
As a Frontend Developer at Raptor Services, you will be part of our Technology Team. Technology is in charge of executing the product roadmap. 
You will work side by side with a strong team of committed and highly skilled colleagues from Denmark and Romania and you will be working close together with your product owner, UX/UI designers, data scientists and other like-minded developers.
At Raptor, we value teamwork highly and we believe the best software is created when we work together.
You will be working with personalization and targeting – some of the hottest concepts in digital marketing. We always focus on creating value for the customer, and you will have a big impact on the interaction design and the immediate value of the product.
You will have an interesting and challenging student job with a strong emphasis on continuous development – both personally and professionally. You will get the chance to acquire new knowledge's and be a part of different phases of the projects.
You will be working with our frontend technologies: Vuejs 2, Vuex, Typescript, Vuetify and Axios.
We currently have a vast roadmap with many ongoing projects. Therefore, your tasks will be diverse and challenging as well.
Depending on the projects you will be involved in, you will be involved in the morning stand-up meetings where we briefly discuss what you are going to work on, any difficulties you are facing, or any things worth
What we expect
Education within the frontend developer area (Multimedia design and communication, Web-development, etc.)
You have been in contact with Javascript frameworks (Vuejs, Angular or Reactjs)
Experience with HTML, CSS3, Javascript or typescript
Knowledge of material designs such as Bootstrap, Vuetify, etc.
Knowledge of RESTand JSON
Intuitive sense of graphic design, UX, and a good eye for visual quality
A willingness to learn, always strive to get better and be a team-player.
You have excellent written and oral skills in English – basic knowledge of Danish is an advantage.
What we offer
The opportunity to grow both personally and professionally.
An opportunity to take part in cutting edge technology.
A position in an inspiring and casual environment with friendly and passionate people who love what they do.
A job with flexible working hours.
Attractive salary package.
Great coffee, amazing lunch, fruits, cake and snacks and beer/wine on Fridays.
A chance to work in our new office with possibly the best view of Aarhus city center. Besides the main office in Aarhus, we have an additional office in Bucharest. Plans are already made to expand and to include new markets and offices internationally.
Are you the right candidate?
Do you want to help build the world's best personalization software?
Apply today, we process applications on an ongoing basis.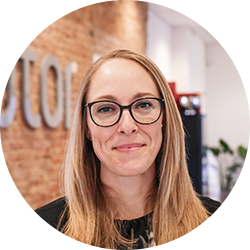 Send application and resume to Anne as soon as possible.
All applications are handled confidentially. For additional information, please contact Anne Ravn Vincent.