Information
Application deadline: As soon as possible

Employment: Full-time
Department: Finance & Administration
Workplace/HQ:
Ny Banegårdsgade 55, 1.sal, 8000 Århus C, Denmark

Do you want to be part of our unique culture where cutting-edge technology and personal skillsets create value for our customers? And are you ready to join in on Raptor Service's international expansion?
Then read on!
As our Recruitment Manager you will be a part of our finance & administration team, with reference to our CEO Kenneth Boll.
As our new Recruitment manager, you will have the primary responsibility of recruiting future employees for Raptor Services. The position is new and so is the department which you will eventually manage (as we grow). This means you get to lead the way and use your professional experience in an international context.
Raptor Services was recently acquired by QNTM Group – an equity fund with ambitions to build one of Europe's strongest ecosystems of digital companies. As a Recruitment Manager this means you have a global network of peers to rely on in the recruitment process.
To succeed in this role, you are an accomplished recruitment expert with + 3 years of experience and a true passion for identifying, engaging, and attracting talent.
You have a strong intuition for captivating the best talent within various fields of expertise including technology, sales, marketing, management, HR, etc. You recognize the importance of building relationships across the entire organization as a key element in any recruitment process.
It's essential that you are proactive, outgoing, and have a strong desire to take part in growing Raptor Services outside Danish borders. As a team we support each other, and we constantly strive to improve and to support the business in the best way possible.
You will be working out of our head quarter in central Aarhus, but you must expect travel days to offices in Scandinavia and Benelux.
Your primary responsibilities
Lead A-Z recruitment activities at Raptor Services

Uncover recruitment needs with hiring managers

Uncover top talent through various sourcing channels using LinkedIn and employee referrals
Gather job specifications from hiring managers and create solid and exciting job descriptions
Promote job applications, making sure that all job possibilities are accessible on the appropriate platforms, sites, and events
Manage applicants, screening process, and schedule interviews with candidates
Manage and facilitate tests and interview referrals
Participate in candidate interviews
Drive the entire hiring process from contract signing to onboarding
Handle the rejection and feedback process
Finding and working with local partners and building an international network
Creating job listings in international markets
HR responsibility and Management
Responsible for updating and developing the Raptor Staff handbook
Conceptualize employee development programs
Support the management group as a peer
Your qualifications for the position:
3+ years of HR recruitment experience preferably within a Tech or software company or similar
Experience sourcing candidates on LinkedIn, building pipelines, and screening and interviewing candidates
Ability to work in a fast-paced environment – handling many processes simultaneously 
Ability to operate autonomously and flexibly
Strong general business understanding and a desire to learn 
Fluent in Danish and English
What we offer:
The chance to shape the recruitment process and strategy for Raptor Services
The opportunity to join our organization at a time of growth and huge expansion plans
A position in an inspiring environment with friendly and passionate people who love what they do
The opportunity to work in an organization with cutting-edge technology
A role in which you have a strong influence on your daily tasks with flexible working hours
Competitive wage that is negotiated on an induvial basis
Pension plan, health care insurance, lunch package, Friday bars
A vibrant and casual environment
Travel days to our new international markets
Who are we at Raptor Services?
Raptor Services is an international Software as a Service provider (SaaS) operating in more than 45 countries. That is why a high level of both Danish and English language is an advantage in this role, so we can continue to serve more than 300 enterprises and ambitious customers all over the world.
Are you the right candidate?
Do you want to help build the world's best personalization software?
Apply today, we process applications on an ongoing basis.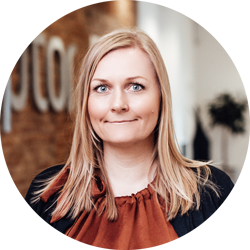 Send your application and resume to Mette as soon as possible.
Start date: As soon as possible.
All applications are of course handled confidentially.
We continuously call for interviews until the right candidate is found.