IOS 15 – What you need to know if you are a Raptor customer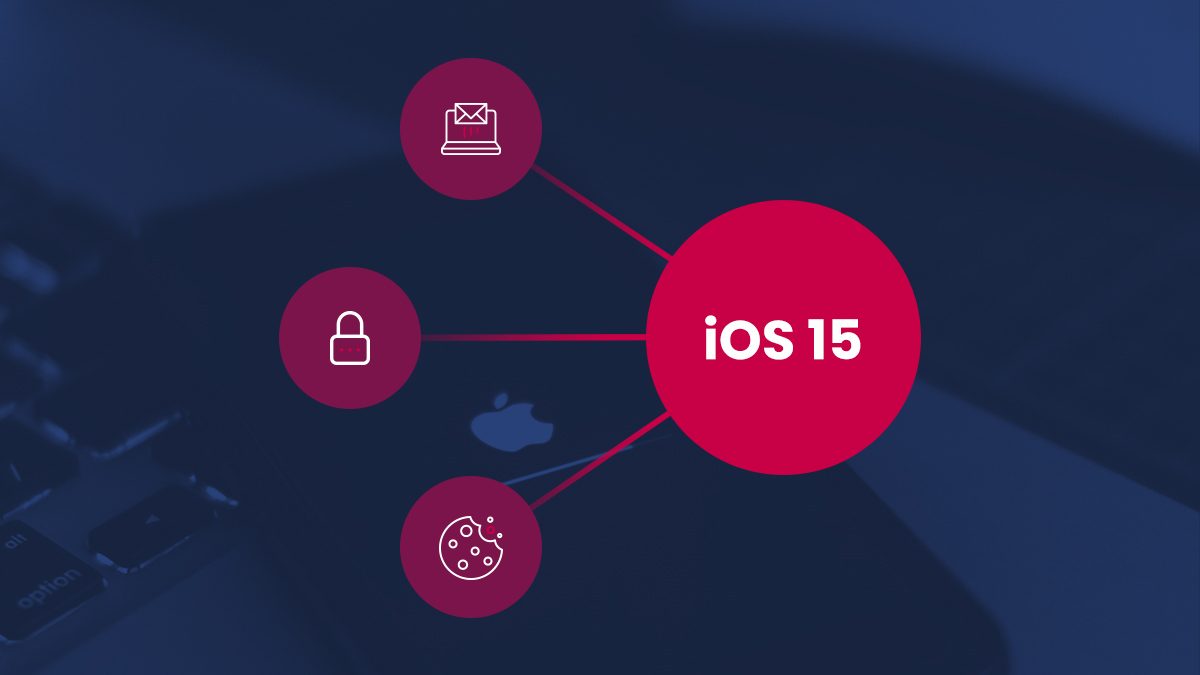 Last updated: 26th of October 2021
iOS 15 is a reality: At Apple's annual Worldwide Developers Conference in June, the company announced a rollout of a handful of new iOS 15 privacy features to their software; most in favor of enhanced user experience and privacy protection to help users control and monitor apps' use of their data.
Now the announcements have become a reality – how does this impact E-mail marketers?

The iOS 15 updates impact iPhone, iPad 15, macOS 12 Monterey, and watchOS 8. 
In this blog post, we consider the biggest changes and what e-mail marketers can do to continue their work in more privacy-preserving times.

Their mission is clear: Users need to be able to control and manage access to their data in a more efficient way. 

Mail Privacy Protection – another blow to first-party tracking
Let's face it: E-mail marketing is still a powerful marketing strategy. It converts better than organic traffic and social media. It's not that hard to figure out why, since subscriber lists typically consist of interested prospects or customers who are easier to convert.
While Apple's new release changes the strategy from where e-mail marketing is performed, it doesn't change the fact that e-mail marketing is still a much-desired way to reach out.
What has changed?
As of September 20, 2021, Mail privacy protection hides your customer's IP address, so you can't connect it with any other online activity. In short, this prevents you from knowing if and when your customers have opened your e-mail.
Mail Privacy Protection affects any e-mail opened from the Apple Mail app on any device; however, in Raptor, we don't use customers' IP addresses, so no need to worry.
How does it work?
When someone opens the Apple Mail app for the first time after the update, a new 'Mail Privacy Protection' tab is added within the Mail app itself. Here, users can decide how much personal information is shared with e-mail senders.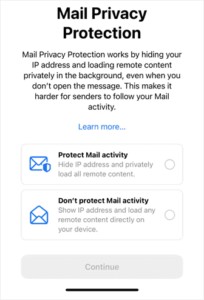 So, this is not turned on by default, as rumors initially had it. Apple users will have to actively make a choice (except if you for some reason don't have Apple Mail as your default e-mail client, then Mail Privacy Protection is, in fact, turned on by default in your settings). Whatever you choose will be synced to all your other recently updated Apple devices.
As part of Mail Privacy Protection, Apple downloads all the images in the e-mail, creating a copy of the images and re-locating them on the Apple Privacy cache. This download is triggered by a proxy server with an IP address assigned to a location near the subscriber – all to hide the user's geolocation.
Because Apple, in a sense, is "opening" e-mails on behalf of users, open rates rise significantly. Even if the user does not actually open the e-mail him or herself, Apple has already done it, and this is skewing open rates altogether.
Is it over with open rates?
Apple did not block the tracking pixel used to see who did or didn't open an e-mail. Instead, they preloaded all tracking pixels before subscribers open the e-mail themselves. Open rates should not be a stand-alone performance metric (they never should be), and these changes do indeed give more power to Click-through-rates e.g. the value of the content of your e-mail marketing campaigns. So, while you might be annoyed by changing perspective to another metric, this is surely a reminder to include and emphasize clicks and conversion rates.
What does it mean for personalized e-mail marketing?
You need not worry about your real-time personalization efforts in e-mail marketing. The enemy is not personalized and relevant content, but sketchy and invasive content from marketers the customer did not agree to receive.
As such, Apple's confirmed end to invasive e-mail tracking in its Mail app is a big step in the right direction where users receive relevant e-mail marketing.
E-mail marketing based on consent is, on the other hand, still both relevant and possible because this relies on first-party data. Data you acquire in exchange for value either as part of a newsletter sign-up, loyalty rewards program, or something else that provides the user with value.
By using personalized e-mails and behavioral triggers in e-mails, you can track subscribers' behavior from e-mail to the website and across your website. This information is useful to your e-mail marketing campaigns and necessary for personalizing customers' experience.
"Our principle is  "privacy by design" in all of Raptor's solutions – it's the code we work by. We believe any steps in trying to preserve the privacy of customers or users are necessary and should rely on consent and relevance. First-party data ensures this and applies to regulatory standards and the privacy movement we are in"
Hide My E-mail creates random e-mail addresses
Another change in Apple's Mail app is "Hide My E-mail," which is automatically included in the iCloud, Safari, and the Mail app itself. This feature enables users to use an unlimited number of randomly generated e-mail addresses to subscribe to newsletter lists, apps, or services. Much like having a burner account that forwards e-mails to users' real accounts.
The purpose is to limit companies' ability to collect personal data via e-mail and reduce the junk mail most of us receive.
The solution? Marketers need to adapt to new, more private means to track user behavior. The focus is heavily on privacy-safe and personalized e-mails that service the customer's experience.
As a Raptor customer, all customer data consents. The identification process happens as part of the sign-up to newsletters, customer rewards programs, loyalty programs, etc. This means that customers will still receive e-mail marketing material on their real e-mail account.
If you thought Apple was finished adding privacy features, the latest IOS 15 showed otherwise. The most significant changes will improve privacy protections and once again pay tribute to the ability to acquire customer data through consent and permissions.
Do you have any questions?
Raptor Services A/S is a data controller and ensures that the processing of personal data is always in accordance with applicable data protection legislation.
If you have any questions about the new privacy features in iOS 15, feel free to contact us.