A warm welcome to 3 new Raptors – Frederik, Mads, and Steen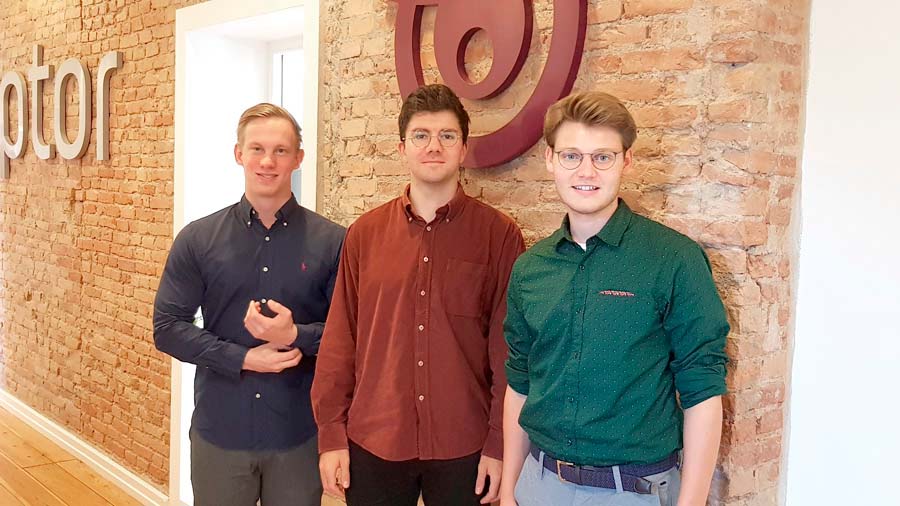 As we say goodbye to the summer, we welcome three new faces to the Raptor team.
Join us in welcoming Frederik Træholt Andersen, Mads Grout, and Steen Harritz Paaske who are the latest additions to our Technology- and Professional Services teams.
Steen Harritz Paaske, Junior Consultant:
Steen holds a bachelor's degree in business development Engineer from Arhus University, Herning. Through his education, he has gained knowledge about how to develop, innovate and escalate a business. He has been working with websites and CMS-systems from both the development as well as a business perspective.
Steen has been an intern at Lenovo Software in San Francisco where he learned to understand customer needs, using scrum and build an iOS platform.
He just started studying his master's in technology Based Business Development as well as being a part-time student worker at Raptor Services Professional Service division.
Raptor is an energetic company with an entrepreneurial vibe. I look forward to being part of the team, and to get the chance of helping customers bringing their online shops to the next level through the technology and knowledge we can provide.
Mads Grout, Junior Software Developer:
Mads is educated in Computer Science at Business Academy Aarhus. He has gained experience from his time as a student developer and his internship at Rambøll Management Consulting in Aarhus. Mads will be working on various projects full time until February where he will begin his bachelor's degree in Software Development and continue as a student developer.
In his spare time, Mads enjoys doing gymnastics and going to the gym. When I'm not doing sports, I play music or enjoy spending time
I'm thrilled to have the opportunity to be a part of Raptor Services A/S. I look forward to working with their experienced developers and help in delivering solutions that will improve their business.
Frederik Træholt Andersen, Junior Software Developer:
Frederik holds a bachelor's degree in Computer Science which he achieved this summer at Aarhus University. Frederik has experience with both frontend and backend development from his previous job as a full stack developer at Aarhus University. He will be working on improving the user experience of Raptors internal tools and services.
In his spare time, Frederik enjoys going to the gym with a special focus on powerlifting. When he is not at the gym Frederik enjoys playing music such as the guitar or the piano, as well as watching a movie or a tv show.
I am very happy to be a part of Raptor Services. I am eager to put my skills to use, working with and improving Raptors products and services and develop the best possible user experience for raptors clients.